Make social media work for you, not the other way around.
Now now, this ain't like any other post. It'll REALLY show you ways to be more productive on social media! Go on, keep reading!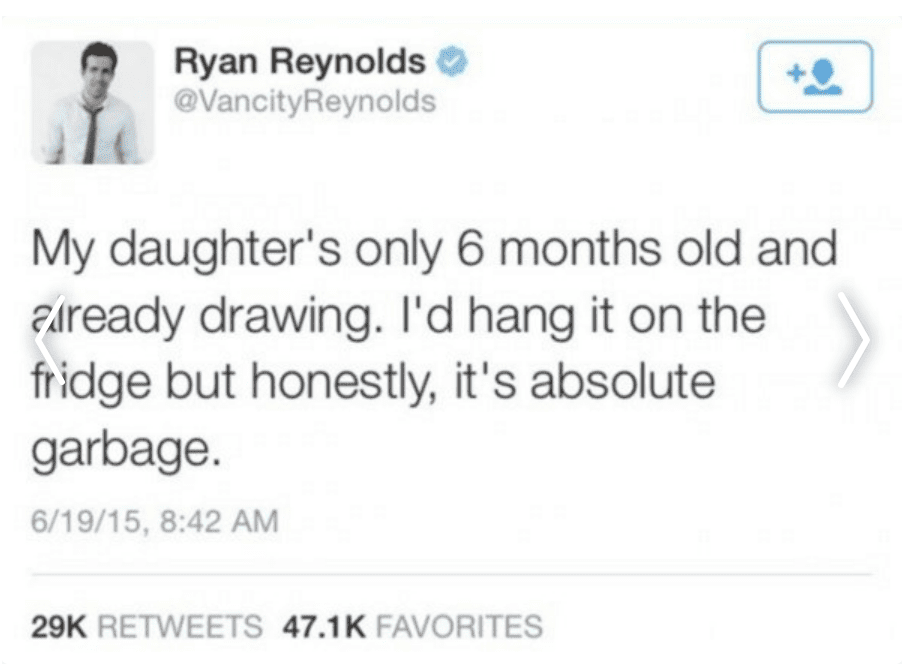 Ok, you better be reading this if you don't want to be cursed with diarrhea for the next 7 days — this is part of a chain letter you're looking at.
Just kidding. Read on and you'll get what I mean.
Every coach in the world has probably told us that we should only focus on one platform, but it is human nature to just not want to give up all other platforms completely.
We get all serious and say OK, I shall plan my week out. Mondays and Thursdays shall be for Instagram. Tuesdays and Fridays for Facebook postings and the weekends will be devoted to Twitter.
Or something.
Let me know how that has worked out for you so far. It hasn't for me. At least, not yet.
The thing is, we can plan all we like, but if we don't have a strategy for it, what we are going to end up doing is to post half baked quotes and captions and consider our job done, and then spend the next one hour scrolling and getting totally distracted with all the videos and articles we'll be watching and reading (that does absolutely nothing for our business).
Fortunately, there are 5ways to make social media actually work for you — hence making your time there more productive and efficient.
Oh, and these 5 ways allow you to be on multiple platforms and still feel in control. Sound good? Let's go!
The Pattern-Interrupt
I know what you're thinking. What-interrupt?
I wondered the same thing in the past, but now it's a method that really works — even for one-liners.
The Pattern-Interrupt technique (in marketing) is a technique that interrupts your reader's natural state and thoughts by jumping out and grabbing their attention. This results in them being more likely to continue reading your caption than to keep scrolling.
Hence my chain letter threat in the beginning — this is not a blog post that started out the way you expected it to, so your curiosity was piqued and you continued reading.
Pattern-interrupt can be in the form of captions, Facebook ads headlines, a Facebook post or even a LinkedIn post. It jumps out at you, stops you in your scroll, and makes you click on it to read more.
I've always seen funny and interesting pattern-interrupt techniques by Peng Joon, a popular online marketer. Here is one of his Facebook ads: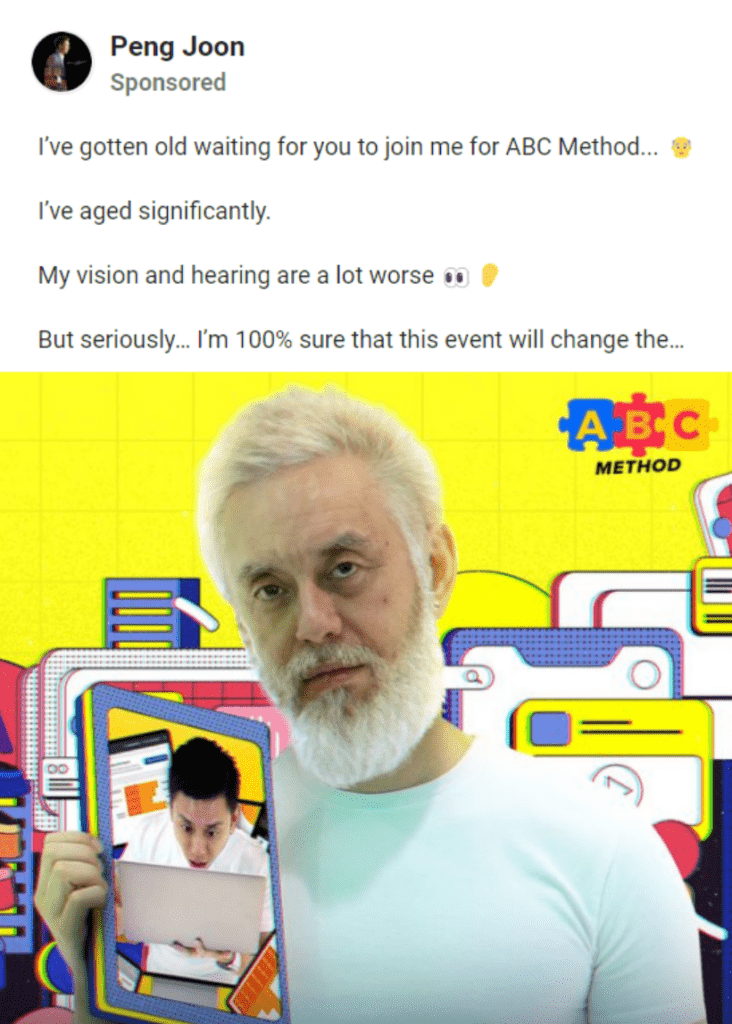 He stops you in your tracks by showing a photoshopped 70-year-old version of himself claiming he's gotten old asking you to join him for his upcoming webinar.
Let's face it — most of us skim. We don't read unless something in that article really grabs our attention —( Hopefully, this one is.) Hence, bold one-liners are always a great way to stop scrollers in their tracks and do a double-take.
Another example: Instead of the traditional headline — How to generate more leads with Facebook Ads, a headline or a caption saying You've got a long way to go if you haven't implemented this in your business yet will definitely keep your audience reading and staying on your post.
More headline hacks from Smart Blogger — this is a download you're going to love! Even though it's meant for blog posts, I believe great one-liners work very effectively on social media as well.
The better you get at writing such captions, one-liners, or headlines, the more likely someone is going to continue reading your post, engage with it, and even end up following you on social media. And in the end, that is what we want — followers that resonate with the content we're putting out.
Timing, Y'all – How to be more productive on social media with timing
Quick, what's your favorite number?
Mine's 9. You know why? Cos my audiences are most active at 9pm.
According to Statista.com, over 3.6 billion people were using social media worldwide in 2020. This number is projected to increase to almost 4.41 billion in 2025.
You don't need to be online 24/7, but you do need to post based on when your audiences are most active online.
Since people alternate between going into Facebook and Instagram regularly due to the cross-posting options available, use the stats that are given to you in your Instagram account to check out the best times to post.
How?
This requires you to have a business account. When you go to your profile, you'll be able to see the 'Insights' tab.
Go in and click on 'Total followers'.
You'll be able to see the number of followers you have, broken down into age groups, gender and most importantly, the times they are most active on Instagram.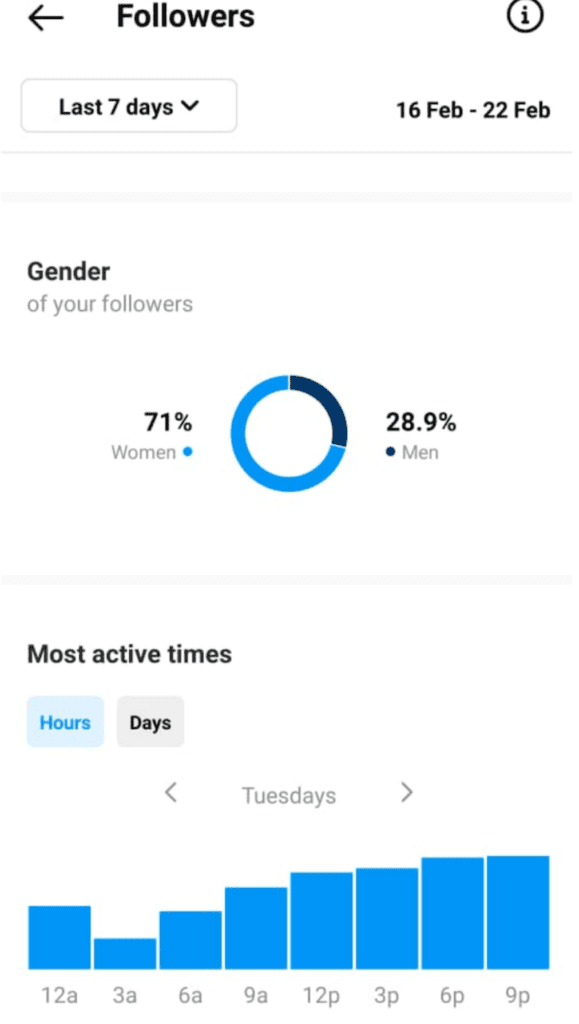 You'll also be able to know what cities and countries they're from.
These are the little details that make a difference to when you should post, instead of going in whenever you feel like it, and then wonder why some posts get more engagement than others.
Pick 2–3 of the most active times weekly and cross post from Instagram to Facebook, using the pattern-interrupt method outlined above.
Automate Your Postings
This is a kitten.
Why is this kitten important? Because it's helped me write amazing blogs.
Just kidding.
I wanted to see if you were still paying attention.
We can only be in so many places at one time, so automation and taking out some time to do proper content batching is a great way to get your social media posts working for you.
First off, Buffer is a great tool because it allows you to post on Facebook, LinkedIn, Instagram and even Twitter.
Sign up for a free account and block out a weekend to content batch and plan out what images you want to use. Make notes of when your audiences are most active online, and schedule your posts to go out then.
This is something you only need to do once a month, and you'll get your content all ready for the next 30 days. They're all be scheduled and ready to go, and your social media will be working for you instead of the other way round.
Buffer also gives you your social media analytics, allowing you to see what's working and what's not, so you can tweak and improve your content as you go.