This post may contain affiliate links. If you use these links to buy something we may earn a commission at no extra cost to you. Thank you for your support!
AI-powered tools are revolutionizing the way we approach content creation, especially for freelancers. With the rise of machine learning and data science, these tools are designed to automate repetitive tasks, enhance content quality, and provide insights using natural language processing.
The future of work is rapidly evolving, with artificial intelligence jobs becoming more prevalent. You can be a freelance writer, a data scientist, or a software developer. Understanding and leveraging the power of AI and accurately using AI-generated content can give you a competitive edge.
With that being said, we shall delve into how you can start freelancing with AI, and the top AI tools you can use to further your career and be a successful freelancer.
The use of AI tools to replicate human intelligence is great for content creators, business owners, and freelancers alike. These tools can save precious time, improve quality work, and open up new possibilities in the competitive market. It's like having your own team of virtual assistants who have AI skills and are especially great with specific tasks that even humans struggle with.
Let's explore the top 10 AI tools that are set to redefine the freelance industry and empower professionals like never before.
Related: Best AI copywriting tools for the freelancer
Koala.sh
Koala is one of the leading AI freelancer tools for content creation, writing, and blogging. It can churn out highly specific and accurate newsletters, emails and blog posts. Yes, you heard that right. The good news is, Koala is incredibly easy to use. Simply put in your blog post title and keywords, add necessary prompts, and have it create an outline for you. From there, you get it to write a full blown blog post and the time it can save you will blow you away. Of course, I do recommend you edit the post to make it sound more human and personalized, but the potential impact of AI is clearly seen here – it's a great tool that appeals due to its ease of use, intuitiveness, and ability to do deep learning with the information you feed it. Koala is a prime example of freelancing with AI and leveraging AI to make money.
Main Benefits
Koala is easy to use, extremely affordable, and churns out well-written content and articles. There is Koala Chat – which talks to you and create what you want. There is also Koala Writer – responsible for article outlines and full blog posts.
Social media posts – Koala helps you to generate captivating posts and content for stories and reels that you can use on different social media platforms if you were freelancing as a virtual assistant or a social media manager (2 of the most popular jobs online at the moment). It saves the human brain the effort of trying to come up with content and taking a long time to figure out compelling words or sentences by giving you answers in mere seconds.
AI-generated images: Koala also gives you the option to insert relevant links in your written article (to YouTube videos) and generate AI images. You can opt for both, but I typically only go for its images. If you check out my recent posts on Amazon FBA, those images were generated by Koala – it's amazing.
How It Helps Freelancers Make Money
For freelancers navigating the vast seas of content creation and writing, Koala.sh is more than a mere tool—it's a trusted ally. It even helps you to rewrite full articles that you like into your style and voice. This efficiency can lead to more projects, satisfied clients, and ultimately, increased earnings. Bloggers, freelance writers, social media managers, virtual assistants and even copywriters find Koala a lifesaver.
How I use it: I use Koala to write my regular blog posts. I have it come up with outlines, I edit those outlines and add to them, and then Koala writes for me. After that, it only takes me an hour or so to go through the article, fact-check it, rewrite some sections, add my own experience and personalization, copy it into WordPress, and publish the post.
Pricing
The Essentials plan is $9/month which includes GPT-4, GPT-3.5, and Claude, real-time search results integration. The Starter plan is $25/month and offers everything in Essentials with increased word and message limits. The Professional plan is $49/month with further increased limits for KoalaWriter and KoalaChat. Really affordable for those freelancing with AI – the amount you can potentially earn will easily cover Koala's costs.
Reword.co
Another freelancing with AI tool – Reword helps you to craft compelling content with both originality and finesse, a balance that's often hard to strike. Reword.co steps in as a beacon for those in the content creation realm, providing a fresh perspective that's rooted in AI-driven insights. Reword.co enables freelance writers, bloggers, and content creators to elevate their written pieces, ensuring they resonate with unparalleled authenticity and flair. It rewords content into your tone of voice and makes it unique to you or to the brand you're writing for.
Main Benefits
AI-Powered Rephrasing: Reword.co transforms content to be unique while retaining its core message.
Content Enhancement: The tool ensures the essence of the content remains intact and offers an engaging perspective.
Contextual Understanding: Reword.co understands the context, tone, and intent behind each piece, ensuring content aligns with the writer's tone.
How It Helps Freelancers Make Money
For freelancers and content creators juggling multiple blog posts and articles, Reword.co is a game-changer. In the competitive world of content creation, standing out is vital. With the power of AI, this tool ensures every piece is both original and captivating, increasing the potential for higher engagement and monetization.
Moreover, the AI-driven suggestions ensure content is plagiarism-free and tailored to specific needs.
Pricing
TRIAL fee is $0 for 14 days with 1 project, unlimited AI assistance, and the ability to create or optimize up to 4 articles. The Grow plan is $48/month (or $38 if billed annually). The Pro plan is $80/month (or $64 if billed annually). It offers Unlimited projects, 100 new drafts included, and unlimited writer seats.
AI Image Enlarger
Visual clarity is the cornerstone of digital engagement, especially in an era where every pixel matters. AI Image Enlarger, with its state-of-the-art capabilities, offers graphic designers and content creators a transformative approach to image enhancement. This tool ensures that visuals are not just enlarged with the help of AI, but are also enriched, making every image a piece of art that speaks volumes.
Main Benefits
Advanced Upscaling: AI Image Enlarger's AI model, trained using generative AI techniques, meticulously enhances every pixel, ensuring images are crisp and clear.
Versatility for Platforms: A pixelated image can be off-putting, but with AI Image Enlarger you can sharpen the visuals and adjust them for all platforms. Yes, use AI to make it bigger and better!
Time Efficiency: Say goodbye to time-consuming manual image enhancements. This tool ensures top-tier visuals in a fraction of the time.
How It Helps Freelancers Make Money
For freelancers aspiring to elevate their careers, integrating a powerful tool like the AI Image Enlarger is a total game-changer. It not only saves much time but also guarantees that the final product meets the highest standards. In a competitive market, having an advantage, such as the capability to deliver premium visuals, can set one apart, and make you come across as a complete professional.
Pricing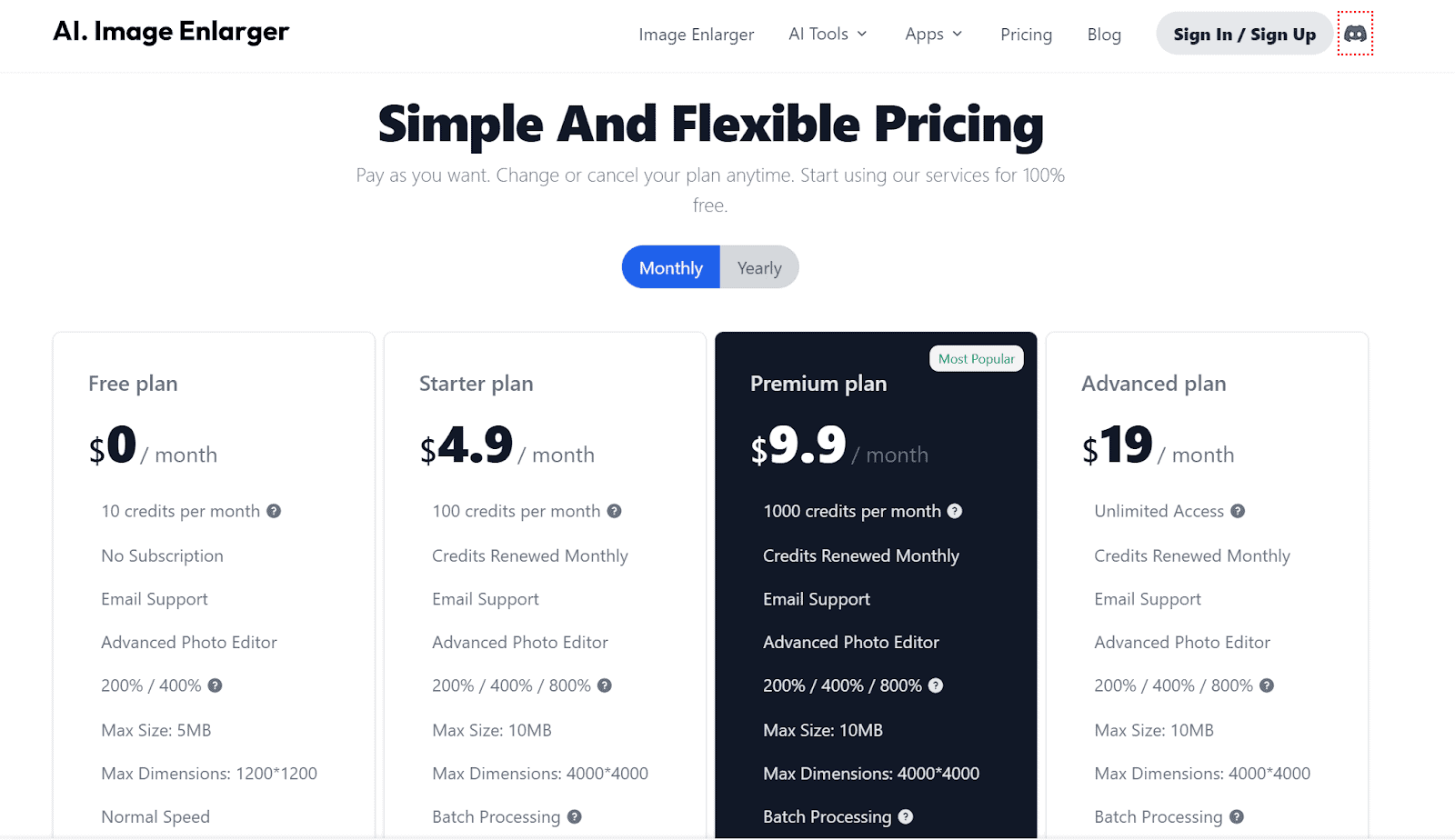 The Starter Plan is priced at $4.90/month, offering 100 monthly credits. The Premium Plan, popular among many, is available at $9.90/month. It offers 1000 credits each month. Lastly, the Advance Plan is priced at $19/month and offers unlimited access.
Tome
Another popular AI freelancing tool, Tome is an innovative platform that harnesses the power of AI to move ideas forward, enabling users to create polished and professional communications swiftly. This tool is not just about creating presentations, it's a platform that allows users to generate complete narratives, presentations, one-pagers, microsites, and more, from any prompt.
Main Benefits
AI-Powered Presentations: Tome's AI capabilities help users articulate their ideas effectively, transforming static pages into rich, interactive experiences.
Diverse Content Creation: Whether it's a presentation, a one-pager, a microsite, or even a mood board, Tome provides the tools and AI assistance to bring ideas to life.
Interactive Embeds: Tome supports integrations with platforms like Figma, Twitter, YouTube, and more, allowing users to embed interactive product mocks, 3D prototypes, and other dynamic content.
How It Helps Freelancers Make Money
The ability to quickly create professional-grade presentations or microsites can be a game-changer when pitching to potential clients or showcasing a portfolio. Feed it the correct prompt and watch your presentation or narrative come alive. Furthermore, its AI-driven features ensure that content is not only visually appealing but also resonates with the target audience, increasing the potential for higher engagement and conversion rates.
Pricing
The Free plan is ideal for individuals as it offers 500 AI credits upon sign-up. For those seeking more advanced features, the Pro plan is priced at $8 per person/month when billed annually or $10 per person billed monthly.
Scribe
In the fast-paced digital world, efficient documentation and training are part and parcel of a growing business. Scribe offers a unique solution for this, tailored especially for professionals and freelancers who often find themselves creating step-by-step guides or tutorials. This AI-powered platform allows users to turn any process into a comprehensive guide effortlessly.
Main Benefits
Web & Desktop Process Capture: Scribe enables users to automatically create how-to guides for any web or desktop-based process.
Automatic Instructions: Say goodbye to manually typing out steps. Scribe's AI capabilities auto-generate instructions, making the process seamless.
Sensitive Data Redaction: Ensuring compliance, Scribe automatically redacts sensitive data from screenshots, ensuring privacy.
How It Helps Freelancers Make Money
Creating detailed visual how-to guides or user manuals often takes up significant time. With Scribe, this process is expedited, allowing freelancers to take on more projects and deliver faster. Moreover, the quality and professionalism of the guides created can give freelancers an edge in a competitive market, potentially leading to more clients and higher rates.
Pricing
Scribe offers a competitive pricing model designed to cater to various needs. Their Starter plan is free and caters to individuals, allowing them to create up to 5 guides per month. For professionals and small teams, the Pro plan at $12 per month offers unlimited guides, custom branding, and priority support.
Grammarly
Grammarly stands as a testament to the transformative potential of AI technology in the world of written communication. This AI-powered tool has become an indispensable asset for freelance writers, content creators, and even software developers. Grammarly meticulously analyzes text, offering real-time feedback on grammar, tone, clarity, and more, ensuring every word resonates with high-quality content.
Main Benefits
Real-time Feedback: Grammarly provides instant corrections, from basic grammar errors to complex sentence structures.
Tone and Clarity Analysis: Beyond grammar, it offers insights into the tone and clarity of the content, ensuring it aligns with the intended message.
Plagiarism Checker: For those aiming for original content creation, Grammarly's plagiarism checker ensures content uniqueness. This is truly important for freelance writers and those doing social media management because any hint of plagiarism can affect their careers.
Chrome Extension: Grammarly comes with a Chrome extension, allowing you to check your article and writing with one click.
How It Helps Freelancers Make Money
Producing blog posts, articles, or official reports that are free from errors can significantly boost your reputation and freelancing with AI can help you do just that. Moreover, in the age of AI, where clear communication is paramount, Grammarly ensures freelancers consistently deliver quality work. The tool's comprehensive feedback, from basic grammar checks to tone analysis, ensures that content not only meets but exceeds client expectations.
How I use it: I use Grammarly when I'm typing fast, so it helps me to catch my typos and misspellings. However, I don't generally use its sentence restructuring, rewording or comma suggestions – I like to keep to my own writing style.
Pricing
While Grammarly offers a free version with basic grammar checks, its premium plan is priced at $12/month. It includes advanced checks, suggestions for style, tone, and clarity, and a plagiarism detector.
Grammarly Business plan on the other hand is priced at $15/member/month for team-specific style guides and centralized billing.
MidJourney
In today's digital age, the quest for the perfect tool to discover and curate impactful imagery is ever-present. MidJourney rises as a beacon in this quest, serving as an AI-powered tool that revolutionizes the way graphic designers, content creators, and freelancers approach their visual projects. MidJourney delves into the intricacies of computer vision to offer curated visual suggestions, ensuring every visual asset resonates with high-quality content.
Main Benefits
AI-Driven Visual Discovery: MidJourney's AI algorithms analyze patterns, colors, and themes, providing graphic designers and content creators with tailored visual recommendations.
Vast Visual Library: With its user-friendly interface, users can effortlessly navigate through a comprehensive library of visuals, all tailored to their specific needs.
Ease of use: Simply drop the prompt and describe the image you have in mind, and MidJourney will generate several examples for you to choose from.
How It Helps Freelancers Make Money
MidJourney ensures every project, from social media posts to advertisements, stands out in significant ways. This not only enhances the freelancer's portfolio but also attracts potential clients, leading to increased freelance work opportunities and revenue. Moreover, it saves time and allows freelancers to focus on optimizing their workflow and maximizing their earning potential. Many funnel builders, web designers and graphic designers have been able to curate nicer images and better landing pages with the use of MidJourney, leading to more satisfied clients and thus, higher returns.
How I use it: I use MidJourney for certain funnel niches such as SaaS or tools promoting AI. I have the free account and it does take a while for MidJourney to generate the images but after that, it becomes really easy to use these images and claim them as your own. Spruce them up in Figma or Canva, and you have a masterpiece ready to knock the socks off your clients' feet.
Pricing
The Basic Plan is priced at $10 monthly, providing 3.3 hours of Fast GPU Time each month. The Standard Plan costs $30 monthly, offering 15 hours of Fast GPU Time. The Pro Plan is available for $60 monthly, with 30 hours of Fast GPU Time. Lastly, the Mega Plan comes at $120 monthly, granting 60 hours of Fast GPU Time.
Loom with AI
In the digital age where remote collaboration and virtual communication dominate, tools that enhance these interactions are invaluable. Loom with AI combines the convenience of video messaging with the intelligence of AI-powered tools. Designed for freelancers, team members, and business owners, Loom leverages AI technology to allow you to record videos, testimonials, feedback and more. Loom's new technology allows AI to generate proper captions, removing all ahhs and oohs, and automatically come up with a suitable headline or title for your video after.
Main Benefits
Loom allows its users to record pitches for potential clients, tutorials for online courses, or feedback sessions, all while the integrated AI assistant analyzes the content in real time. This AI expertise provides suggestions to enhance clarity and engagement, ensuring every video message hits its mark.
I've used Loom to record over 60 videos for my students in my Thinkific platform, and have never found course creation easier. This is freelancing with AI for me – and I love it.
How It Helps Freelancers Make Money
​Easy communication: Freelancers can swap videos with the agencies they're working for instead of painstakingly typing issues and feedback out. A video also makes it easier for one to understand the message that is being conveyed.
Better testimonials: The fact that you can share a link from a Loom video anywhere or even download the video into your desktop and reupload it anywhere else makes it a great choice for freelancers to get testimonials from their clients.
How I use it: As a funnel builder, I use Loom to walk the client through my thought processes and the flow of my design, so the client understands the flow and requests for tweaks and edits become minimal. I also record design feedback for my students as well as new modules and lessons for the coaching program they're in.
Pricing
The free plan includes up to 25 videos per person with a maximum length of 5 minutes per video. Business plan is priced at USD 12.50/Creator/month (when billed annually), this plan is designed for teams and offers unlimited videos. For an additional $4/creator/month (billed annually), users can enhance their videos with features like auto titles, auto summaries, and filler word removal.
Lyne
Lyne is an (AI)-enabled sales personalization tool that helps businesses increase cold outreach response rates. Many virtual assistants and freelancers doing outreach use Lyne.ai to write numerous personalized cold email icebreakers or intros. Tip: Always do a quick research on the company you're reaching to and add some level of personalization to the email.
Main Benefits
High speed: Lyne does research into your target businesses and clients 9000% faster than a human, allowing you to do mass outreach quickly and more efficiently.
Personalization: With its research, Lyne churns out more personalized and intimate outreach emails, increasing the chances of replies and open rates.
How It Helps Freelancers Make Money
Like all AI tools, Lyne requires a human (or rather, a full-time employee) to feed it the necessary guides, prompts, and filter its results. Freelancing with AI is not all roses and cream, you need to do your part too as a responsible freelancer and service provider.
A freelancer such as a virtual assistant, a closer or even an outreach assistant who is familiar with the tool can use this as a pitching opportunity to get a business more sales.
Pricing
The Free plan is available at $0, operating on a pay-as-you-go model. The Custom plan, priced at $120 per month, offers 1200 Lynes monthly, with costs starting from $0.10 per Lyne. An annual plan is available at $250, providing 100 Lynes monthly, starting from $0.05 per Lyne. For specific scraping requirements, a plan is available at $39, equating 1 Credit to 1 Valid Email, with varying credit tiers available monthly.
Every Pixel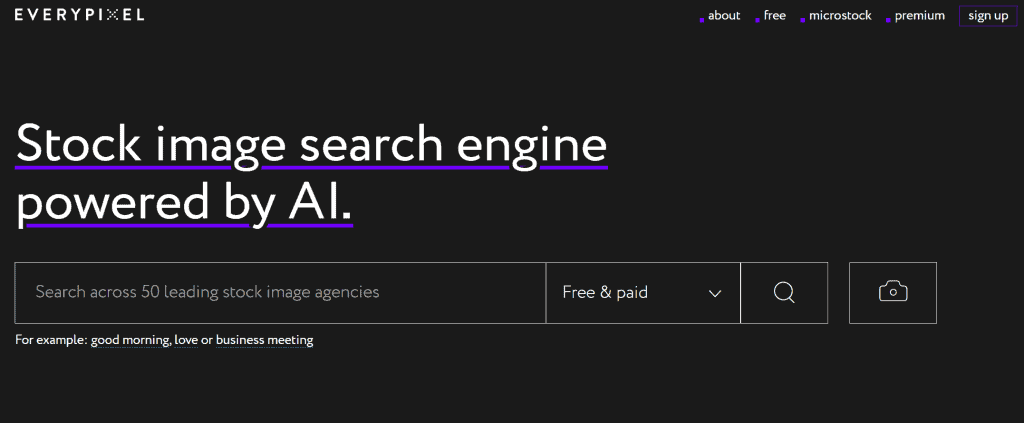 In the digital realm where content creation is king, visuals hold the power to captivate and convey. Every Pixel is the AI-powered tool that graphic designers, content creators, and freelancers have been waiting for. In short, Every Pixel uses the power of AI to find you stock images that fit your needs when it comes to content creation and design.
Main Benefits
It has a free plan: The free plan lets you patterns, vectors and even exclusive images, all license-free.
It has Every Pixel Aesthetics (currently in beta mode): You get to ask the neural networks if your photo is good. The neural network is a code that is able to be taught and also learn independently. This helps those freelancing with AI tools to better their skills and accomplish more complex tasks easily – all with AI.
How It Helps Freelancers Make Money
With better images and graphics, designers and content creators are able to increase page conversions, send better messages to readers, and create better user experiences. This not only elevates the content but also saves precious time, allowing them to focus on other freelance business aspects. With the right visuals, freelancers can attract more potential clients, enhancing their marketability and profitability.
Pricing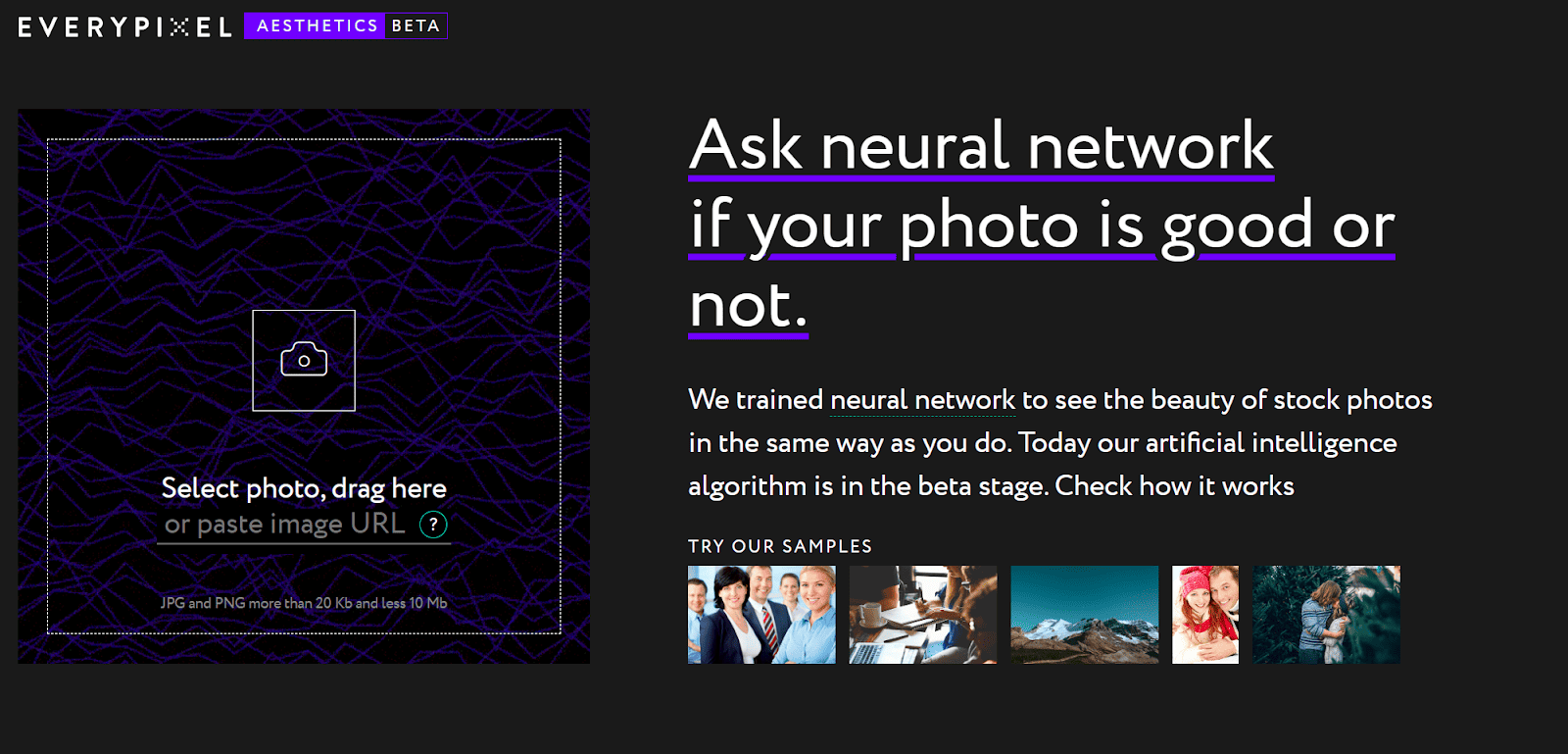 The Free plan allows up to 5 searches per day. The Starter plan, priced at $9/month, offers 50 searches per day. For more extensive needs, the Pro plan at $19/month provides 150 searches daily and the Business plan offers 1000 searches per day at $99/month.
Related: Freelancing without investment best guide and tips
Final Thoughts: Freelancing With AI
The future of work is undeniably intertwined with the advancements in AI technology. As we've explored, the age of AI has brought forth a plethora of powerful tools that are revolutionizing the way freelancers and professionals approach their craft. These AI tools not only automate repetitive tasks but also enhance the quality of work, ensuring that professionals can deliver high-quality content and services consistently.
Moreover, as the competitive market evolves, staying updated with the latest trends and harnessing the power of AI will be pivotal for success. Whether you're a freelance writer, a software developer, or a content creator, the AI-powered tools of 2023 offer a competitive edge, ensuring that you're always a step ahead in your career path.