This post may contain affiliate links. If you use these links to buy something we may earn a commission at no extra cost to you. Thank you for your support!
You may have a full-time job, but you're looking to earn some money online as a side income. You may also be looking to eventually work from home full time.
If you love reading everything from science fiction to books on digital marketing and have a knack for picking out grammatical mistakes, proofreading may be just the kind of online job you want to do.

Here are some quick sites you can get the best online proofreading jobs from:
Best Online Proofreading Jobs
I'm sure you've can't help but noticed grammatical and spelling mistakes in work-related emails sent by colleagues and in messages sent by friends. If you've ever thought you should have been a teacher so correcting no one will bat an eyelid when you start correcting their grammar, you're not alone!
In this article, I go through exactly what proofreading is, the best online proofreading jobs you can get, what types of proofreading jobs you can do and the tools and resources you need as a proofreader.
What Is Proofreading?

Proofreading, simply put, is the final step of the content creation before an article, a book, an editorial, or any type of content gets put out there or gets published.
Unlike editing, proofreading requires you to ensure that there are no grammatical mistakes, spelling errors, and other reading errors before publishing.
When you go in search of the best online proofreading jobs, some employers may use the terms editing, copywriting, and proofreading either incorrectly or synonymously. Always be sure of the differences between editing, copywriting, and proofreading.
Pros and Cons of Proofreading
Pros of Proofreading:
You are able to work from home
You are able to do your work and fit your work time around your usual household routines
If you love reading, this will be a bonus
You can sign up for as many proofreading jobs as you want
Cons of Proofreading
It may be tough to navigate job site after job site to land a proofreading job (though I'd say that goes for all jobs, especially for beginner freelancers)
If you're not that great at grammar – you may question yourself and have to look it up – which will take time
Some companies have stringent rules and tight deadlines to adhere to

How Much Do Online Proofreaders Make An Hour?

Employers can pay you by the hour, by word, by page, or by the project. The more projects you take on, the more you'll be able to earn.
According to ZipRecruiter, salaries can go as high as $87,000 and as low as $21,000, with an average of $63,000 annually.
Salary averages $25 per hour, although it may be lower for beginners.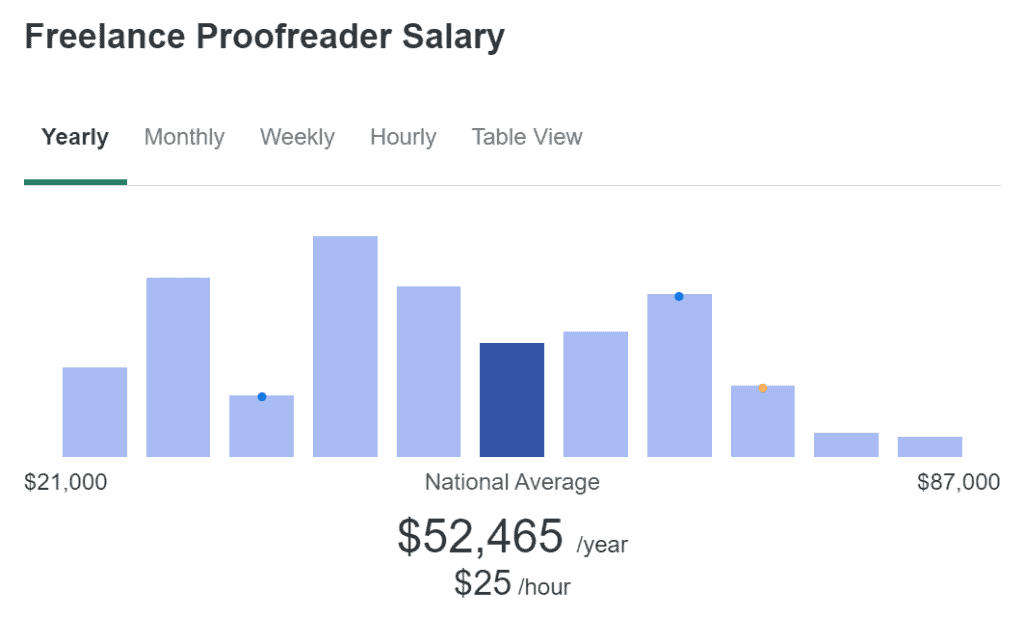 Proofreading Vs Editing
Editing is where you restructure sentences and even paragraphs for better readability and understanding. Editing is done of the drafts of the content and once the content has been edited and refined, it is then passed to the proofreader to detect grammatical and spelling mistakes that may have been missed out during the editorial process.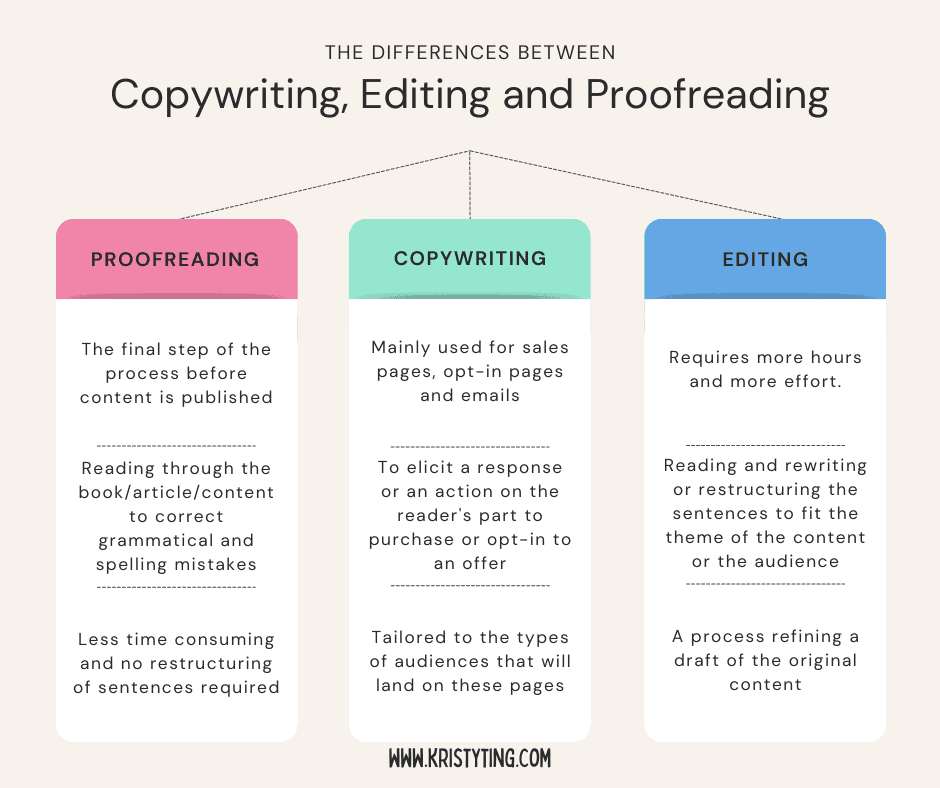 67 Best Online Proofreading Jobs For Beginners
Catering to clients in over 192 countries, Editage is easily one of the largest proofreading and publication sites online, and is constantly on the lookout for talented editors and proofreaders.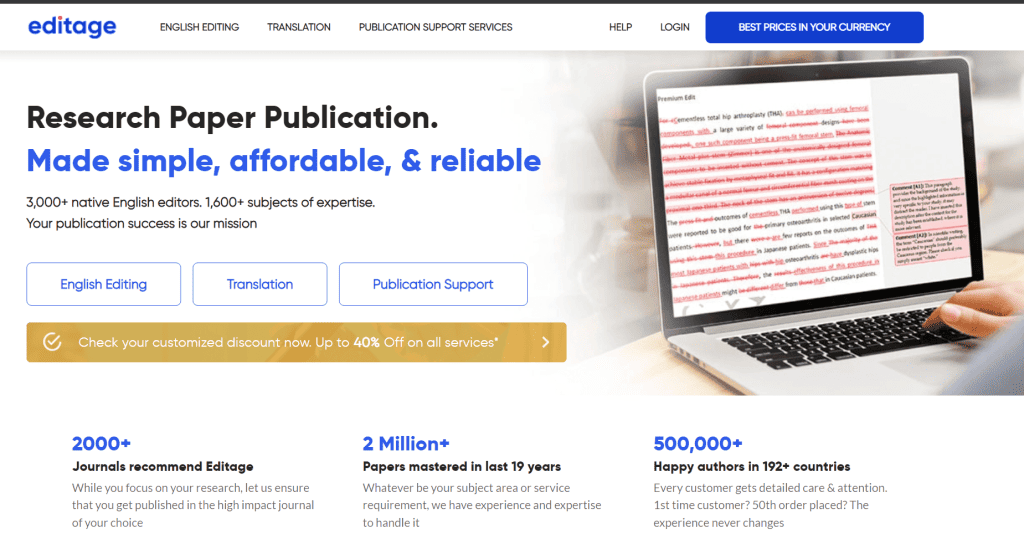 Hiring proofreaders who are able to walk the fine line between adhering to industry standards and allowing for creative interpretations of grammar and usage rules.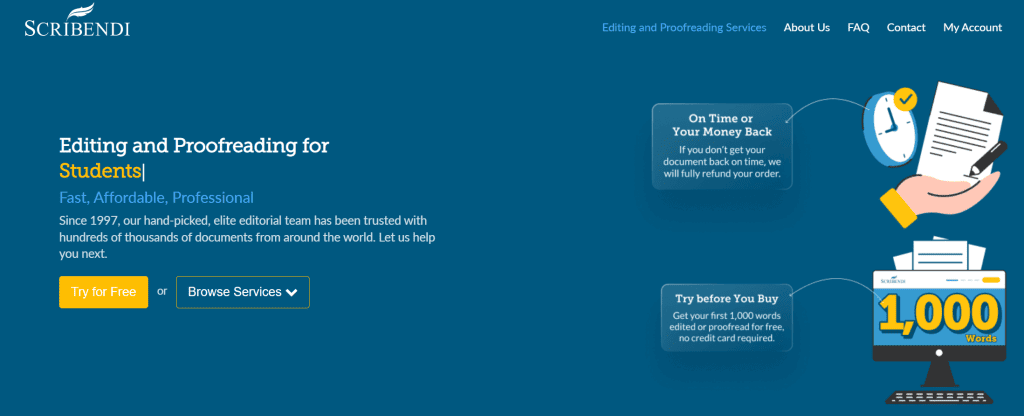 Offering proofreading services for academics, businesses, authors, students, and more – a great place to grow your portfolio!
12,873 online proofreading jobs at the time of writing. LinkedIn is a great site because it is not your usual social media platform – it is more like a resume platform, where you showcase your work, your experience, and your skills. Prospective employers who receive your application via LinkedIn will usually go and scope out your profile – so make sure it is professional and up to date!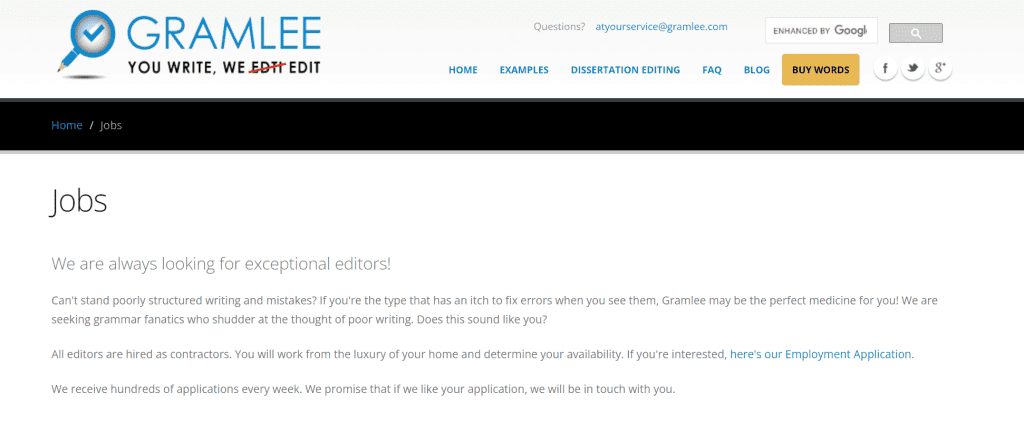 Jooble is easily one of my favorite sites. When I was starting out, I used it a lot to get daily job updates for free. The great thing was it catered to worldwide clients, so I could reach out to anyone from around the world. At the time of this article, Jooble has more than a whopping one million online freelancing jobs available for proofreaders. The world is your oyster! There's something for everybody. Go out and grab it!
What Tools Do I Need For Proofreading?
Google Docs
You will need something easy and convenient to use, that is also easily used by almost all companies out there. Google Docs allows you to keep your work organized and it is also easily shareable.
Grammarly is an app (it offers a free and a paid version) that allows you to double-check grammar and punctuation.
A workspace that allows you to organize your folders, documents, and requests from every client in an easy manner. Clients are also able to directly share their folders with you so you get access to all the details you need – all you need is an email address.
Dictionary/Google
A writer may need this more than you, but it is great to have one on hand so you can look it up to check words that are unfamiliar to you, so you know what it means, and understand what you're reading so you know where the correct punctuations should be.
What Skills and Qualifications Do I Need To Be A Proofreader?
Some companies require you to have a Bachelor's Degree in Journalism or English before applying for a job, but most employers require that you possess proper grammar and vocabulary knowledge. As you go along and gain more experience, you will be able to command higher salaries and get paid better rates.
Be resourceful and eager to learn. Some clients prefer Google Docs, while others are more conventional and want you know be familiar with Microsoft Word. Learn both so you can cater to any clientele.
If you're here, you'll know that one of the most important skills you need to have is to be really fluent in whatever language you'll be proofreading in.
Is Proofreading A Legitimate Work From Home Career?
It definitely is. With so many businesses going online, the need for great content is increasing. Every company wants good, readable, high-quality content that will allow them to stand out from its competitors.
As long as you are willing to keep looking, searching, and not give up, proofreading will eventually earn you enough (as you can see from Ziprecruiter's average salary) to live comfortably while working from home.
Getting Started As An Online Proofreader If You're A Beginner
One of the best ways to start out as an online proofreader and land proper online proofreading jobs will be to take courses.
Here are 3 top proofreading courses you can consider applying to (they're pretty affordable and no, I'm not affiliated with any of them nor are these affiliate links).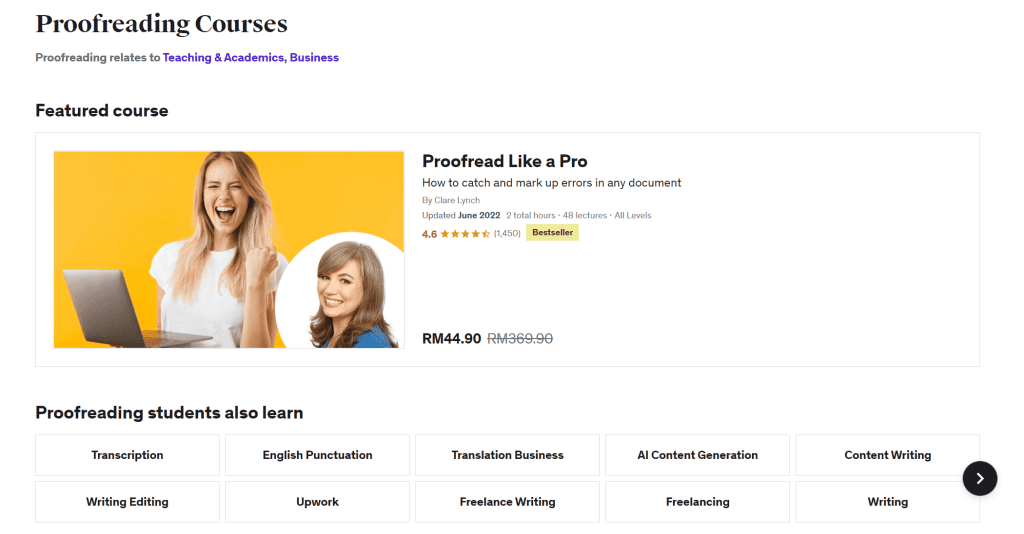 This is one of Udemy's featured courses for proofreading. It is extremely affordable (costing below $20) and has a 4.6 out of 5 stars rating by over 1400 students. Students also get to learn how to proofread tables, graphical images, charts, and also academic citations. Most importantly, the course also teaches you how to find work as a proofreader.
Introduction to Editing and Proofreading – Coursera
This course offers you a combination of video lectures, online readings, peer reviews, and guest appearances from world-renowned children's authors. Rated 4.7 stars by over 1,100 students, you get to give and receive feedback from your peers and gain tools and techniques for improving your writing. You will also learn self-editing skills and be part of a dynamic, worldwide community. Best of all, this course is currently free of charge.
Becoming A Proofreader – Nowadays

This course may be one of the best ones around because it offers you a job after you graduate. Students who pass with distinction (over 80%) get a chance to work with Knowadays' partner company, Proofed. This means you get a job immediately and do not have to spend time looking for clients and bargaining for decent rates. This course has a 5-star rating on Trustpilot and offers a comprehensive 15-module program, teaching you everything you need to know about proofreading.
What Is The Best Website For Proofreading?
The top 10 most popular sites to get proofreading jobs online as a beginner are:
Frequently Asked Questions
How much money can you make as a proofreader?
The amount of money you can make really depends on the number of projects you take up. If you were to charge $15 per hour and take up enough projects to use up to 40 hours a week, you'd be making $600 per week or $2400 per month.

Your salary also depends on the client's budget, the number of words or pages that require proofreading, and if the content requires you to have a certain level of knowledge, such as medical knowledge (so you understand the medical terms that are used inside) or other technical knowledge.
Who uses proofreaders?
Small or local businesses, bloggers, publishers, writers and even influencers who want their content to come across as polished and flawless will want their content to be proofread.

Medical or pharmaceutical companies coming out with publications, universities publishing thesis or journals, and marketing companies producing articles and marketing content will also want their content proofread.

In short, people who don't have the time to do it themselves, but want to ensure that quality content gets out to their audiences, will want their work proofread and double-checked. The options are limitless.
How to increase your rates as a proofreader?
1. Set up a website promoting your services. Sites can be hosted for as low as $3 per month. If that is too daunting a task, prepare an amazing portfolio detailing your experience and qualifications (add on to them as time goes).
2. Find your niche. You may start out trying to proofread each and every document you are given and that is totally OK because as freelancers we want to try as many types of niches as we can before we decide which one we actually enjoy doing. When you niche down, you'll eventually gain authority in your selected field because with more experience, you'll be able to know what to look out for, what terms you should be using, and give feedback and consultation where necessary with regards to that particular field or niche. That is when you can start charging more.
Conclusion
Proofreading is a legitimate job that can bring you a consistent amount of monthly income. As with all jobs, you will need to give quality work, overdeliver, and have good work ethic.
Get started as a beginner today and check out all the online proofreading jobs listed above!
Looking for other options? Check out the best 47 work from home jobs for beginners here!