This post may contain affiliate links. If you use these links to buy something we may earn a commission at no extra cost to you. Thank you for your support!
If you're looking to work from home and find online jobs that pay well, you can't do better than writing. With rapid growth in digital marketing, the need for good writers has increased by leaps and bounds. There were over 44,000 writers in the United States alone in 2020, and this number is set to exceed 50,000 in the next 5 years.
How To Get Freelance Writing Jobs For Beginners With No Experience
This article will show you everything you need to know about freelancing as a writer, even without experience, including:
The things you need to become a freelance writer
How to find your first freelance writing job
How to find online writing jobs
Writing job boards
The highest-paying freelance writing jobs
The best freelance writing websites for beginners, and more.
The Things You Need To Become A Freelance Writer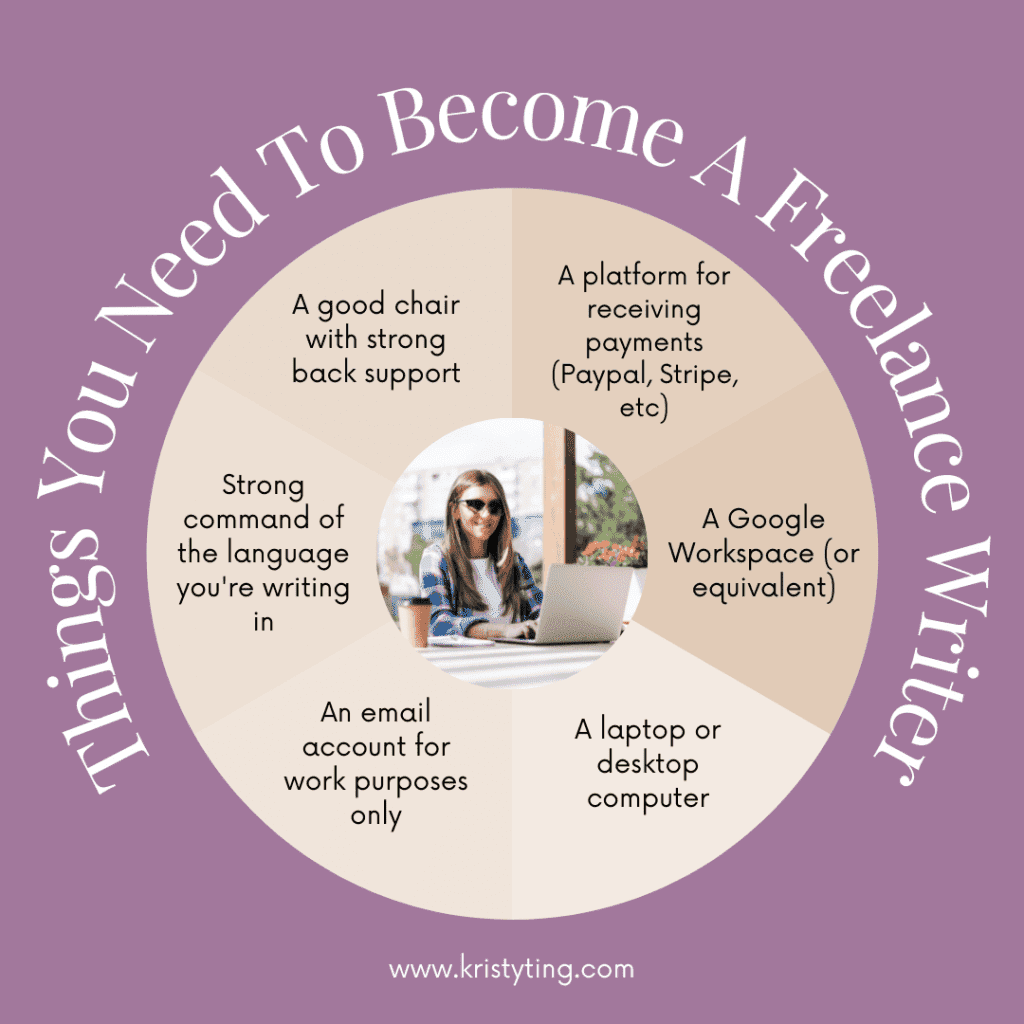 The great thing about starting out as a freelancing writer is that you do NOT need any experience and you CAN still get paid to write (the way I did!), but there are several things you'll definitely need to ensure you enjoy what you're doing and that you're able to get paid for it.
A personal desktop or a laptop – A good, reliable PC or laptop will help you to churn out better articles and do better research versus an Ipad, a tablet, or a smaller gadget.
A work email account – It can be a Gmail account (which is free), but it'll be great to have an email account that is specifically meant to receive and send emails about work, client details, and job applications.
A Paypal or a Stripe account (or any other account that allows you to receive international payments, such as Wise, Remitly or Venmo. (My personal favorite is Wise, because of the very, very low transaction fees and charges that they have).
Get a good chair that has a soft cushion to support your back and your posture.
Google Workspace – To keep all your applications and writings organized in one place.
A good and stable internet connection wherever you are helps you to stay on top of things.
Basic Skills And Qualities You Need To Be A Good Freelance Writer
Consistency and determination – While you do not need much experience as a new freelance writer, you will need to have the grit and willpower to learn something new, stick to it and become good at it.
Independence and resilience – A lot of articles you write will require you to be resourceful, creative and self-reliant. Take the opportunity to:
– Google as much as you want for information
– Watch and learn from YouTube
– Network with other marketers and reach out to them for information and feedback
– Sign up for courses (my go-to solution – so I don't have to second guess what I learned, and I have a coach to refer to)
Good command of grammar and spelling
Attention to detail
Ability to overcome self-doubt and put your services (and yourself) out there.
Tips To Start Freelance Writing For Beginners With Zero Experience
Here are simple ways you can start your freelance writing career with no experience and get hired fast!
Start a blog.
This is one of the quickest ways to start your writing portfolio and get a feel for doing research and writing on certain topics. Churn out a few articles and have something to show when prospective clients ask you about past work.

If the idea of creating and designing your own website sound too daunting, do what I did – I started writing on Medium for free, and eventually gained enough followers and received enough feedback to start my own website. Medium is a great place to showcase your writing skills and refer potential clients over to see your work.

Medium is also a place where a lot of publications actively look for free writers to add to their articles. At the time of writing, I am actively writing blog posts for 4 different publications on Medium and this works strongly in my favor on my portfolio. It's a great way to start growing your writing experience. Many writers have been offered writing gigs by prospective employers who read and liked their work on Medium.
Pick a niche.
Find a niche (specific topics) that you're interested in and get good at writing about these topics. Examples include:
Personal Finance (credit card debt, making money online, online business tools)
Health (supplements, breastfeeding, weight loss)
Relationships (divorce, pets, parenting)
Marketing (SEO, content creation, digital marketing)
Lifestyle (travel, designer items, home furnishing)
Picking a niche will help you to create a stronger portfolio and make you an authority in writing on topics under a certain umbrella rather than about everything under the sun.
Guest Posting
This is when you write guest posts(either for free or for a certain amount of money) for companies and have your articles appear on their websites. Starting off, you can write for free to build your portfolio and also have more writing samples; and then eventually start charging for your services.
Show Up On Social Media
Medium allows you to share your published posts on Facebook, LinkedIn, and Twitter. Write regularly and share these latest posts on your social media accounts regularly – in your stories, reels, and TikTok videos as well. You'll have prospects reaching out to you to ask about your services in no time.
Be An SEO Expert
Writers who can get their content to rank on Google are highly sought after and are able to charge higher prices for their articles. This SEO course is hands down one of the best SEO courses out there (and I've checked out a lot of online courses, course junkie that I am) – and I heartily recommend this one. The best writers charge higher rates because of their ability to get posts to rank or show up on any search engine.
Learn To Pitch
Cold pitching doesn't sound like the yummiest thing to do, but it is one of the best ways to get seen and make your presence felt in the particular niche you're writing in. Be part of the circle by reaching out to as many businesses, organizations, local news media, agencies, and companies to offer to write articles that promote their products for them. Remember not to take rejections personally – keep moving and keep pitching. The more new clients you can land, the more people in these circles will get to know you and your work.
Online Writing Jobs
Freelance writing is a very broad term, and there are many, many types of writing that you'll need to know about before deciding on which one you want to do.
Here is a list of the different types of freelance writing jobs you can do with no experience.
Blog writing
Blog writing is the process of writing blog posts targeting a specific audience. The content is usually informational and serves to answer questions the audience may have.
Content writing
Content writing is the process of writing, editing, and publishing content in a digital format. It can be an ebook, an article, a journal, or even a social media post.
Ghostwriting
A ghostwriter produces content that is credited to someone else. It can be a nonfiction book, a speech, a journal, or even a blog post.
Email Marketing
Email marketers are highly paid when they churn out personalized emails that increase open rates and decrease the rate of unsubscribes. Email marketers are especially important when it comes to organizing a launch via email, be it a course, a product, a Black Friday offer, and so on. As an email marketer, you will need to know your clients' audiences so well, so that when they read the email you've written, they feel as if it had been written for them specially.
Copywriting
Copywriting is the process of creating content on sales pages, landing pages, ads, and newsletters that aim to increase conversion and generate either more opt-ins or sales.
Ecommerce Description Writing
This can include blurbs on product pages or articles that reveal the product's benefits, the problem it solves, and why it's the go-to choice in the market.
News Writing
This involves writing in a prose style used for reporting in newspapers, on radio, and on television.
Corporate Copywriting
Corporate copywriting is serious, dry writing that is free from any personality or branding feel. It is heavy and less conversational when compared to the standard copywriting of storytelling.
Grant Writing
Grant writing involves a persuasive style of writing and is like a pitch to get funders to provide monetary support.
Technical Writing
Technical writing involves documenting processes, such as instructional manuals, patient information inserts, and software manuals.
Creative Writing
Creative writing involves poetry and fiction, using one's imagination and invention.
Speech writing
Speech writing isn't too different from your usual narrative writing; but being written for a speech that involves conveying a thought or a message to the audience, requires a knowledge of the pattern of punctuations and expression.
Small Business Writing
Small business writing essentially means writing for small or local businesses, and most involve physical or e-commerce products, such as baby products, breastfeeding products, organic products, weight loss supplements or equipment, and the like.
Video Script Writing
Script writing is the process of writing stories for a screenplay. It involves writing down the movements, expressions, and dialogues of the characters in the play.
Editor
An editor reviews, coordinates and revises materials meant for publication in books, newspapers, or websites.
Proofreader
A proofreader does final checks on written work before it goes live or on print. Proofreaders may specialize in certain fields such as digital marketing, lifestyle or finance.
Translation
A translator reads through or listens to material in one language, makes sure to understand the meaning and context of the material, and then converts it into another language using specialized dictionaries and translation tools.
Transcription
Transcribing involves listening to audio or video, and typing down what you hear, word for word. It can be a Zoom meeting, a phone call, an interview, or research.
Quiz And Test Writer
A test writer is in charge of writing questions and answers for use in different exams and quizzes.
Course Writer
This is a service that provides writing out courses for universities and schools by putting together academic programs and courses in line with the latest syllabuses.
Best Freelance Writing Jobs For Beginners
Here are 35 of the best and most legitimate entry-level freelance writing sites for beginners. Here you'll be able to check out all sorts of freelance writing work on many free job boards. In many of these job boards, you can even turn job alerts on so you get first dibs at new opportunities that are being offered.
Writing Job Boards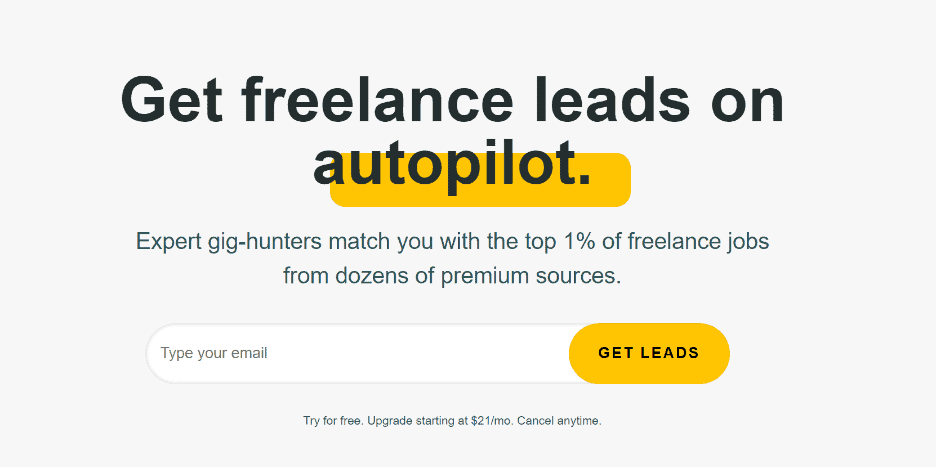 Solidgigs tops my list because it gives you personalized job listings, based on what you want. You create an account and fill out details of the types of jobs you prefer, your experience (if any), and the type of rates you're looking at. It then sends you job listings daily so you wake up to a new list of job opportunities every morning!
Flexjobs offers jobs in over 50 career categories and regularly invites you to events and seminars. They also give career advice and personalized coaching.
One of the leading marketplaces on the Internet for blog-related jobs. New jobs are posted daily and you are able to filter the types of writing jobs you want.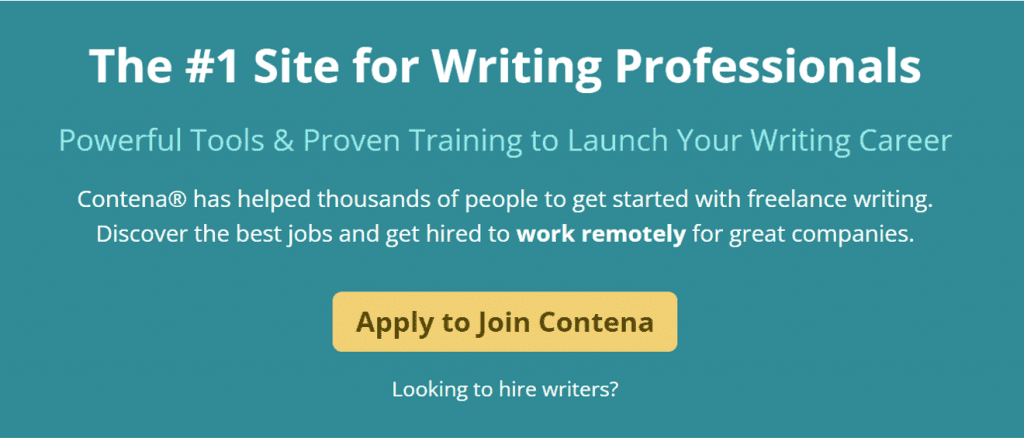 Contena is a paid membership where you are given daily freelance writing jobs (that are vetted) and on top of that, furnished with resources on how to pitch, land a job, and other such education.
This is a job board for those in the media, who research, edit, proofread and publish news articles and features.
Media Bistro offers careers in copywriting, graphic design, and social media marketing, among others. It offers a paid membership to allow access to tools, courses and information you need to make your creative career more successful.
All Freelance Writing offers writing tips and advice in the form of blogs, podcasts, ebooks, and templates. They also feature a writing job board where they post job opportunities regularly.
BloggingPro also offers a variety of blogging and freelance writing jobs, though not updated daily or as frequently. Like Problogger jobs, you are able to apply for these jobs for free. Jobs are not necessarily vetted, however, so you will need to watch out for job scams.
Hiring Sites
This is a site that believes in helping people leave their 9-5 and be financially successful online. They are actively looking for writers, so create an account and start getting job leads!
Freelancer.com is one of the world's largest outsourcing and freelancing marketplace – hence it has writing jobs galore. Jobs are legitimate and you can bid to compete for jobs that you want – which is why building up your portfolio and writing samples are essential!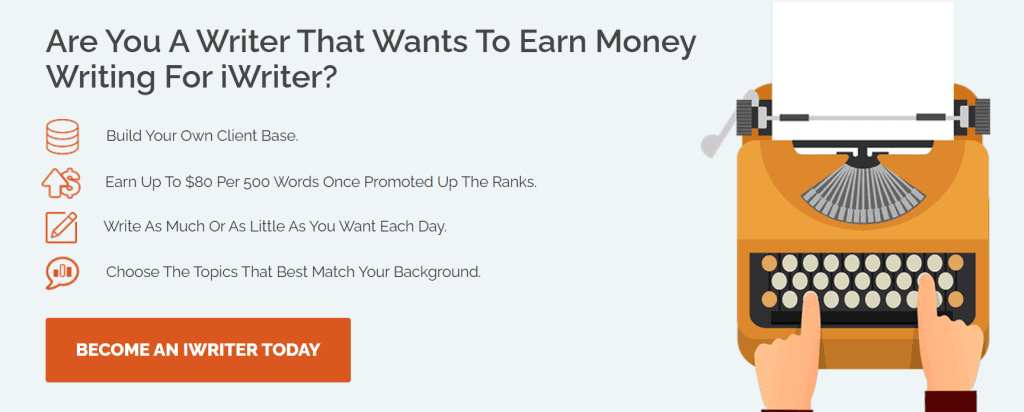 Get hired on iWriter and write as much or as little as you want, based on the jobs that you'll be offered! To join, you'll be required to fill out a form and complete two short 250-word writer prompts. iWriter is one of the best freelancing platforms for rookie writers without experience.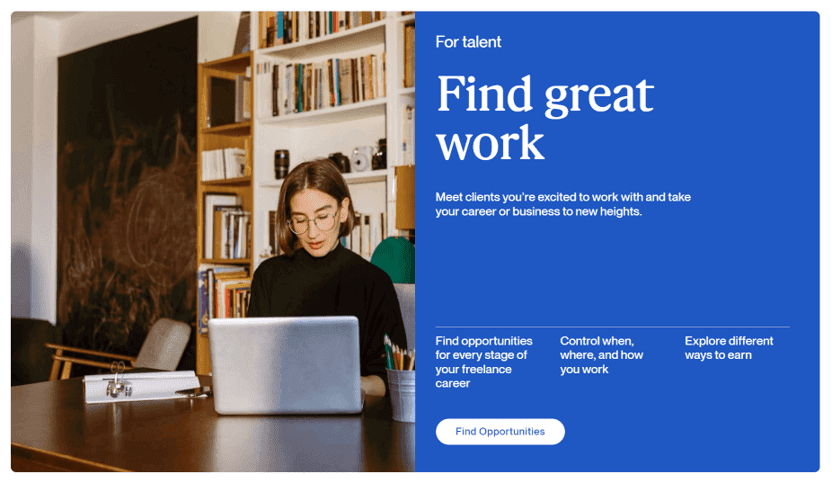 It is one of the world's largest freelance marketplaces. You'll be up against a lot of other freelancers and people look to hire for the lowest rates possible, so it is not a place I'd recommend you stay long term. Get some experience, a few clients under your belt, and then move on.
Guru is a popular platform for you to post your services on and to get hired. You are able to set a standard rate for your work, which allows the onboarding and hiring process to be more direct and quick. You'll also be able to create a writing portfolio and be able to feature past work.
Indeed has over 250m visitors monthly. This platform is great in the sense that it prioritizes job seekers and allows you to post your resumes, look through company profiles and get free access to job postings. You'll find employers who are ready to hire new freelancers at reasonable rates.
Browse by employer, jobs, location, category, and more with SimplyHired. This site caters to jobseekers based in the United States.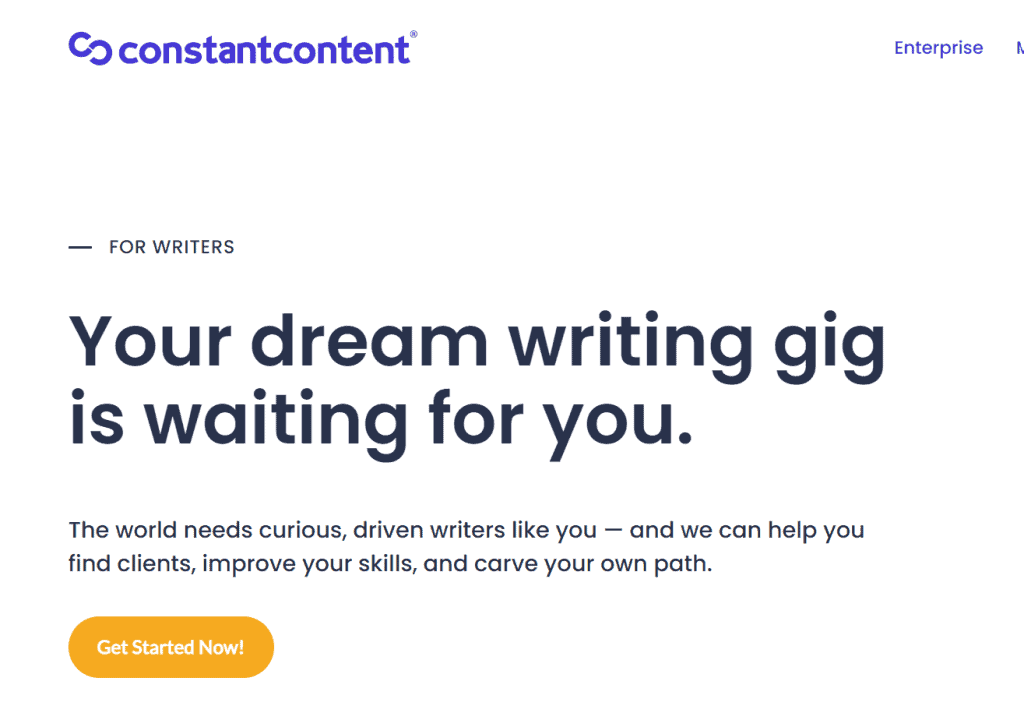 A great marketplace that connects writers with people looking to hire. It gives you the opportunity to either freelance or partner with huge brands.
You start off by creating your profile, featuring your experience and skills. You'll be able to apply for jobs that suite your niche. New writers make between $50 to $100 per article, while advanced writers get upwards of $600 for their work.
Textbroker is a content writing service and has had over 80,000 clients and 10 million content orders on their platform. You sign up for free and instantly get access to thousands of writing jobs!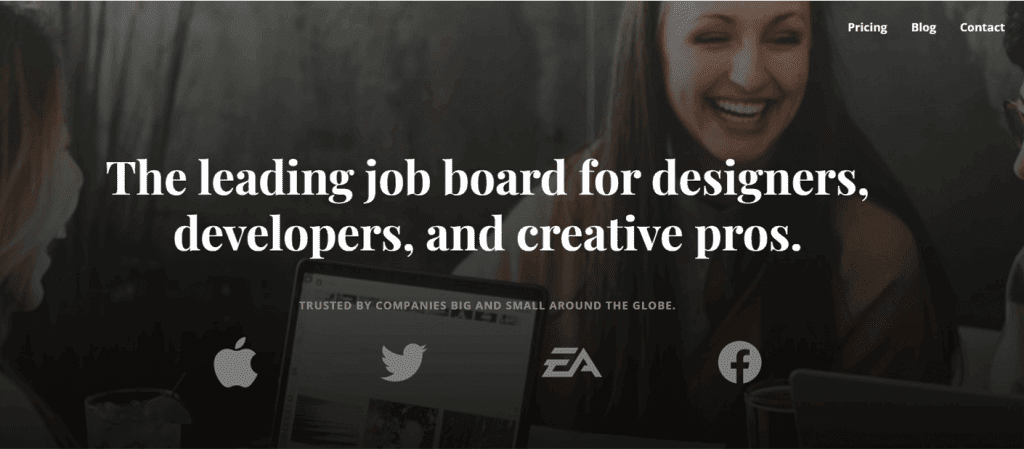 Authentic Jobs has been around since 2005 and focuses on connecting qualified applicants with their dream jobs. They work with companies such as Booking.com, Facebook, Etsy, and Squarespace to offer great job opportunities.
Apply for free and get paid up to $50 per article writing web content. A great space for total beginners looking to build their portfolio.
Red Gage allows you to post your blog posts and creative content and pays you based on your page views and popularity.
Extra Sites For Freelancer Writers With No Experience
Behance on its homepage immediately shows a list of over 100 companies actively hiring. Filter the job offers with the search button at the top to focus on only writing jobs.
FreelanceWriting.com has been publishing the Morning Coffee newsletter since 1998. It offers 8 of the best new writing jobs for freelancers, delivered weekly via email.
Join their newsletter to get tips and resources on successful pitches and freelance writing advice. You'll also get 5 real pitches that snagged bylines in the New York Times, The Atlantic, Playboy, NPR, and The Independent.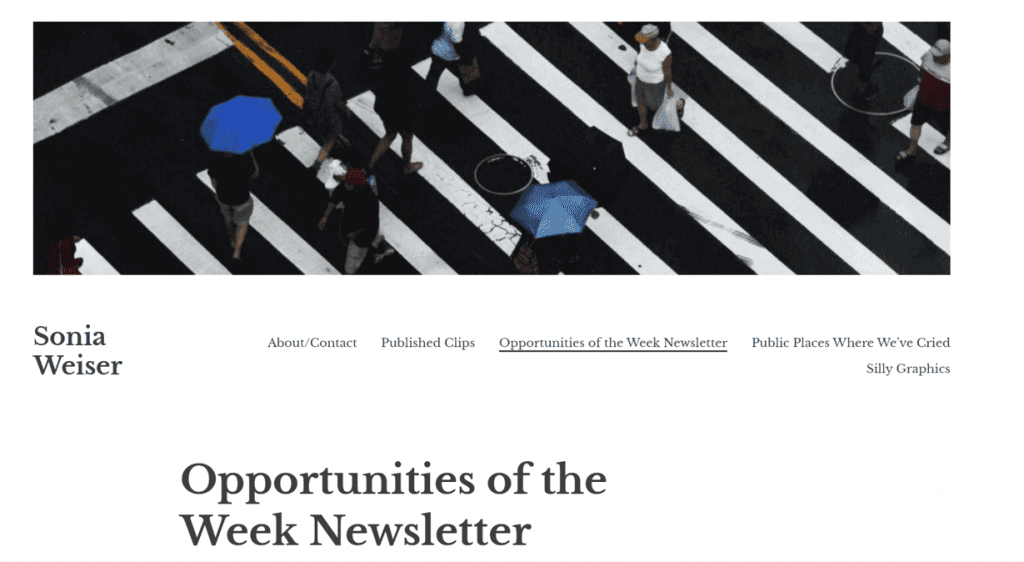 Sign up for this newsletter and get freelance pitching opportunities sent to you two times a week, at only $4 a month!
A community aimed at providing bloggers, freelance writers, and independent publishers job opportunities, advice, and resources.
This website helps those who are interested in writing creative non-fiction, poetry, manuscripts, and short stories.
Freedom With Writing connects freelance writers with editors and publishers looking to hire.
A hiring thread, much like the hiring posts you see in Facebook groups, only this is all in one place. They have guidelines and rules that you'll have to read before applying for the jobs.
Writers Weekly has been publishing since 1997 and is one of the most well-known and respected job sites for freelance writing. They post job opportunities regularly for bloggers, freelance writers, and editors.
Showcase your work by creating a portfolio that features your past work, experience, and certifications for free on this content creation platform, and get access to thousands of companies looking to hire.
Join a platform of talented and hard-working writers who have access to regular job opportunities. You'll need to create an account and an editor will review your application to see if you qualify.
The Content Authority offers writing services such as blog posts, ebook ghostwriting, copywriting, article writing, and social engagement. As a writer of this site, you'll be given specific keywords for a particular post you're asked to write. The better the content, the more highly paid you'll be.
Skyword is a content marketing company that hires existing and aspiring authors to help their clients define their programs and editorial strategies.
An online content creation platform as well as the marketplace for thousands of freelance writers, Verblio offers content creation for landing pages, articles, SEO-focused blogs, and more.
WriterBay is a platform that offers you lots of freelance writing jobs. While experience is not needed, they require that applicants have, at the minimum, a bachelor's degree, high English language proficiency, and the ability to take payments based on the platforms they're using.
What Are The Highest Paying Freelance Writing Jobs?
Here are a few examples of how much you can earn (or eventually earn) with these freelance writing jobs and an idea of what pay rates can be like:
– Landing page writing/sales writing – $50 (beginner) to $5,000 (advanced) per page
– Blog writers writing for other people – $100 (beginner) to $1,000 (advanced) per blog post
– Web content writing – $25 (beginner) to $50 per page
– Ebook ghostwriting – $100 – $500 per project
– Email marketing/writing – $500 – $5000 per series of emails (welcome series, nurture series, offer launch series, and more)
– Social media post writing – $10 – $50 per post
In conclusion, as a freelance writer you can try out any job you want to be based on the pay level you desire, but if you were to look at long-term financial freedom and stability of income, landing page sales writing, copywriting and blogging will be your best choices.
Online Freelance Writing Job Tips
Always read through the terms and conditions of the application of every job board or freelancing platform.
Don't apply for EVERY job – apply to those that you feel you can do well at.
Read all payment and hiring terms carefully.
Avoid content mills – these are sites where the employers ask you to put in 2-3 full writing samples to see if you 'qualify' – but will take your samples and you'll never hear from them again – or, they hire you at very low rates of $0.01-$0.02 per word. If you must work with them, make sure you keep an eye out for better job opportunities and move on the moment you are able to.
Consider guest posting for small businesses and brands. This will require you to reach out, pitch yourself and eventually land a job writing guest articles for them; which  – will allow you to build your portfolio, link these articles back to your blog (if you have a blog), and network with other companies, brands, and writers out there.
To be able to eventually scale your freelance writing business, having your own writer's website is the best way to show off your work, and you can even get leads by offering a lead magnet in return for an email address.
Conclusion
Starting out as a freelance writer with absolutely no experience can be hard work, but there are always employers ready to give you a chance to showcase your skills and passion. Remember to stay focused, and consistent, and regularly pitch yourself to do guest articles as well as peruse job boards and platforms to land the next gig.

At the same time, grow your own blog and try to link as many articles as you can back to your blog to grow your domain rating and authority. A great website or personal blog of your own showcases your writing style and skill level and is one of the best places to get hired and eventually become a successful freelance writer.
Perseverance pays, so keep at it and after a few bumps, you'll start making ready income working from home as a freelance writer.
Fancy checking out other jobs instead of writing? Find out your options here!