This post may contain affiliate links. If you use these links to buy something we may earn a commission at no extra cost to you. Thank you for your support!
Top 10 Lifestyle Blog Name Ideas 2022
Right off the bat: 10 lifestyle blog name ideas 2022 for you to check out – and they're (on the time of writing) STILL available for purchase!

1) 2 Dogs And A Fish
2) How Sweet I Can't
3) Mommies Have Fun
4) Sunshine On The Go
5) Travel And Tea
6) Sunkissed Flip Flops
7) The Life Of A Dreamer
8) Footprints In My Heart
9) Looking Back Smiling
10) Heartfelt Wanderings
Blog Name Generator
Here are some great blog name generators that you can utilize to come up with even more names to suit your blog!
This is a straightforward tool that will instantly populate over 50 available lifestyle blog name ideas you can use! Simply key in the keywords that you want to have in your blog name and voila! You'll have lots of choices to pick from.
Key in the name of your brand in one word – and get lots of ideas in return!
Key in words related to your business and off you go!
This tool is also great because it tells you which domains are still available and which aren't.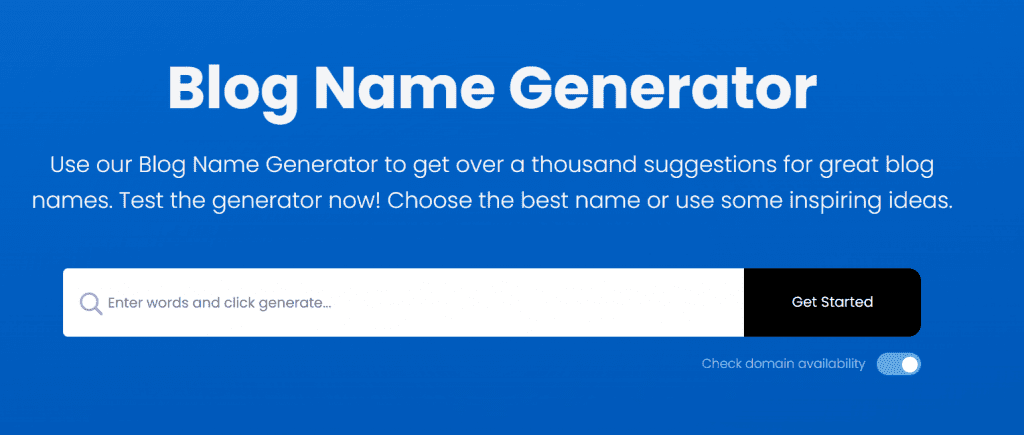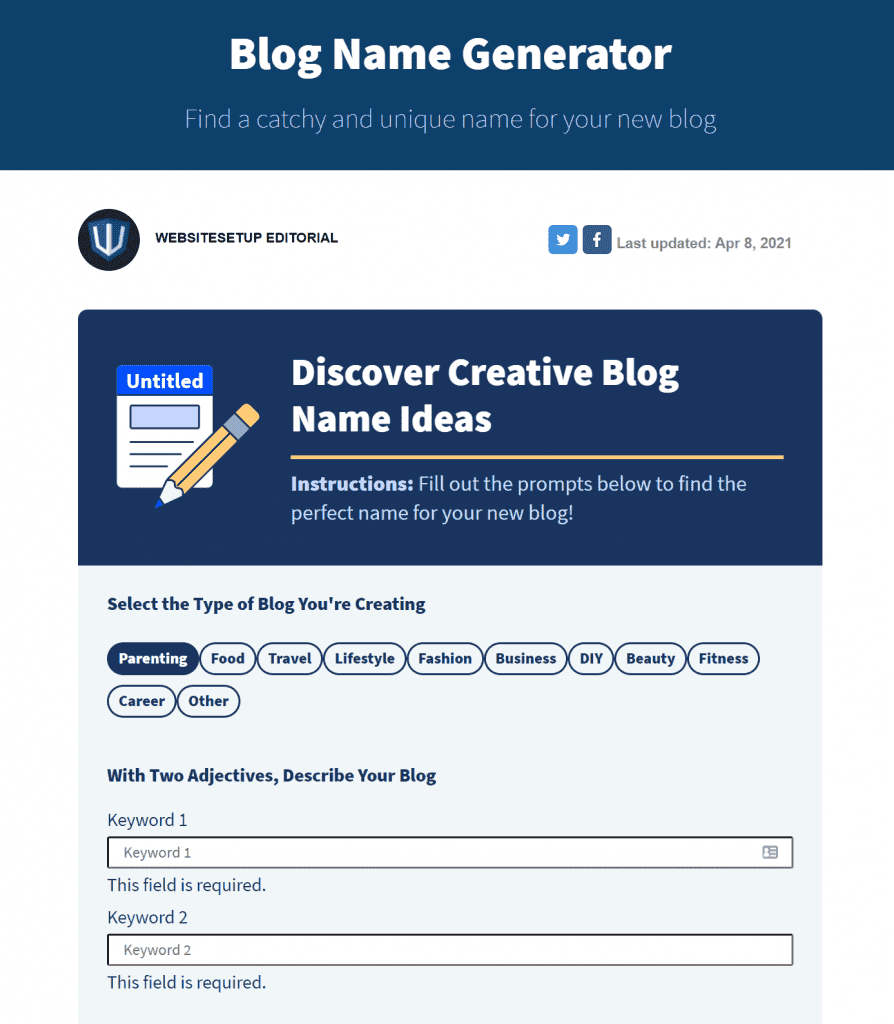 What Is A Lifestyle Blog?
A lifestyle blog is where the author creates content based on their personal interests and daily activities. Thus, the content is highly dependent on the author's location and preferences. Lifestyle blogs share tips for travel, hobbies, cooking or camping, with informational and educational content aimed at sharing knowledge and experience.

A personal blog, on the other hand, makes more emotional connection with the readers, is more personalized and shares more background, challenges and journeys of life.
Lifestyle Blog Name Ideas For Starting A New Blog
Catchy Lifestyle Blog Name Ideas
Blog Me Daily
3 Kids And A Pet
Chefventures
Catch Me Writing
Memories In The Sun
Penny For My Words
Cocktails On The Run
So When I Look Back
Chimney Of Hope
The Road Behind My House
Cooking Lifestyle Blog Name Ideas
Secret Sauce Daily
Blogging With Relish
Tackling The Kitchen
Oven Secrets
Food Diaries
Magic Apron And Me
Happy Fooding
Service With A Sauce
Bake Me Excited
Sauces Of Life
Parenting Lifestyle Blog Name Ideas
Mommy With A Purpose
Love In A Nutshell
Try Me Boss Babe
Boss Baby And Me
The Art Of Mommying
Planning With A Smile
Life With Kiddos
Coffee And The Kids
The Influencer Mommy
Kristy In Between (replace Kristy with your name)
Travel Lifestyle Blog Name Ideas
A Piece Of My World
Flowers Waving
Footprints In My Blog
Come Travel With Me
Snippets Of My Travels
Smelling The Roses
Vacation Insights
Backpacking Asian
Wanderlust Dreams
The Authentic Blog
Need more ideas? Check out these lists from One More Cup Of Coffee and NamesFrog!
Tips To Consider When Naming Your Blog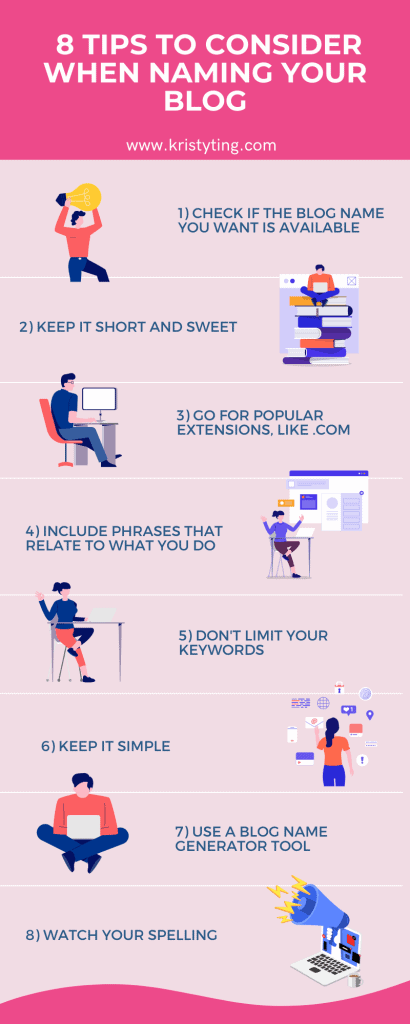 1. Check If The Blog Name Is Available
How do you find out if the blog name you want is available?
Here are some places you can search:
1. Namecheap (my absolute favorite)
2. Go Daddy
3. Domain Name Search
4. WPBeginner
2. Keep It Short And Sweet
Blog names that are easy to remember because they're catchy and make sense will definitely help your audience find you easily. Unusual names that are harder to make sense of will hurt your traffic and increase your bounce rates, because confused audiences do not stay around to try to understand what you and your blog are offering.
3. Go For Popular Extensions
No, not hair extensions.

Blog extensions are the endings of your URL. Popular extensions include .com, .net, .co and .org.
In fact, .me is gaining popularity nowadays because of it's quirkiness.

Russell Brunson has a 16 personality test website that's called Understand.me (get it? get it?) and my URL that represents my brand Compulsive Mommy is (I know you know) Compulsivemom.me.

I wouldn't go for other long-ish extensions or those you hardly see being used, such as .art, .name, and so on.
4. Include Phrases That Relate To What You Do
If you're about traveling, words like bon voyage, sun-kissed, wanderings, will give your readers an idea of what the blog is about.
If you're writing about parenting, use phrases like momlife, 2 girls and a pet, bonding, will show your readers that you're all about family life and kids.

Popular lifestyle words include:
Imagination, authentic, magical, local living, dreams, inspiration, bliss, thriving, the parenting path, health is wellth (misspelled on purpose) and many more. For a full list of words you can use, you can head on over to Passion Paper and get more ideas.
5. Don't Limit Your Keywords
If you're into everything cycling, for example, don't just name your blog "The Bicycle Story", because it sounds as if you're all about bicycles. If you're going to be writing about helmets, accessories, places to ride, then a blog that is called "The Cycling Baron" will show your audience that you are able to talk about everything and anything that relates to cycling.
6. Keep It Simple
Use words that are easy to remember and spell, yet catchy enough to make an impression. Avoid long, hard-to-spell words that require your readers to make an effort at trying to spell them out when typing your URL.
Final Thoughts
Your readers are here for answers, not ramblings or fond memories (though you can inject them midway or somewhere in your post). However, it is crucial to remember that your blog needs to answer their questions (and why they clicked on your page in the first page – it's usually to get a question answered, and not to read your life stories for fun).
They may want to find out the latest cafe to eat at, or a place that serves the best egg mayo sandwiches. They want to know the environment and your feedback on the food and the service.
They may want to know why their kids are refusing to eat or behaving in a certain manner. This is why blogs are so important – they answer questions.
Having a great lifestyle blog name is good, but having your readers remember your blog for all the right reasons will make them remember your blog name, and that is ultimately what you want.

If you're starting a blog and want to learn your way around it, try this free course by Carly Campbell here. If you're looking at other ways to earn money while working from home, check out this comprehensive list I put together right here!