This post may contain affiliate links. If you use these links to buy something we may earn a commission at no extra cost to you. Thank you for your support!
Instagram's latest innovation is transforming the way IG users communicate, bringing a more intimate and immediate mode of interaction through short messages. We'll discuss ways on how to get notes on Instagram here – the ultimate step by step guide for you.
This new update, currently rolling out to users globally, is poised to enhance the way we share little posts and short text messages, fostering stronger connections within the Instagram community.
If you're aiming to maintain follower engagement with consistent updates or spark lively conversations in a seamless, enjoyable manner, Instagram Notes emerges as your essential tool for interactive communication. Stay tuned as we are going to learn how to get notes on Instagram. Also, we'll unravel the simplicity and effectiveness of this exciting addition to one of the world's most popular social media platforms.
How to Get Notes on Instagram?
Here is the step-by-step guide on How to Get Notes on Instagram. (It's not available in many regions yet, though – so if you don't see it after you've updated your app, it most likely means it's not available in yours).
Update Instagram: Ensure you're using the latest version of the Instagram app. If you haven't already, visit the Apple App Store or Google Play Store to update the app.
Open Instagram: Once you've updated, open the app and log in to your personal account or professional account.
Navigate to Direct Messages: Tap the profile icon at the top-right corner of your screen to access your direct messages.
Create a Note: At the top of your inbox, you should see a thought bubble. Tap it to create a new note. Here, you can type out your message, limited to a certain number of characters, making it a short post.
Share Your Note: After typing your note, tap share. Your note will now be visible to your followers at the top-right corner of your profile photo in their direct messages.
Understanding Instagram Notes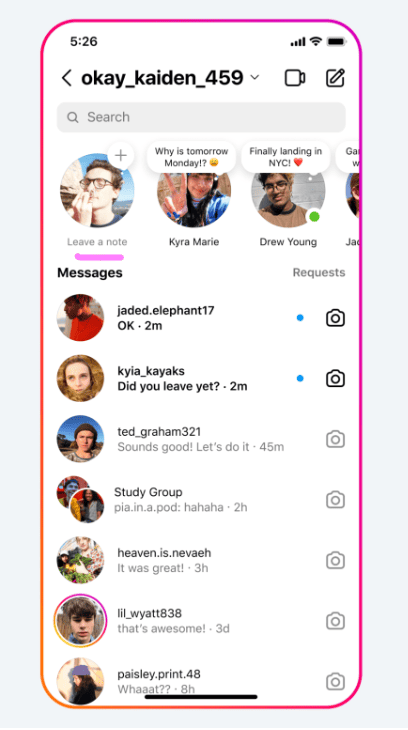 Instagram Notes, a new feature rolled out by the social media company, adds a unique layer to user interaction, allowing for short messages or text notes that create a more intimate form of communication.
This feature is especially beneficial for those looking to build stronger connections with their audience, as it opens up a new avenue for sharing audio clips, short status updates, and candid stories in a less formal and more personal space.
Whether it's sharing exciting news, daily musings, or quick reminders, Instagram Notes can be an integral part of your social media strategy, enhancing user engagement and keeping your audience hooked on your daily notification reminder. It's a creative way to keep your content fresh and engaging, ensuring your followers are always eager to see what you'll share next.
Key Points to Remember
Visibility: Notes are temporary and will disappear after 24 hours. They are visible to all followers unless shared with a close friends list.
Engagement: Followers can reply to your notes, starting start conversations directly in their inbox. This new sharing feature fosters stronger connections with your audience.
Availability: The feature is currently under a testing phase and may not be available in all regions. If you don't see the option, it might be because it's only available in specific regions, like the United Kingdom, or specific accounts, like a professional account.
Maximizing Engagement with Instagram Notes
After learning how to get notes on Instagram and their use, it's important to understand how this feature can serve as a dynamic messaging tool in your social media strategy.
Here's how you can use it to its full potential.
Daily Notification Reminder: Use notes to send out reminders about your latest Instagram stories or posts. This proactive approach keeps your audience engaged and informed about your latest update.
Exclusive Insights: Share behind-the-scenes content or exclusive previews with your close friends list, making them feel special and valued.
Interactive Polls and Questions: Use this new sharing feature to post interactive content, like polls or questions, encouraging follower participation.
Marketing Announcements: Launching a new product or service? Use notes to create buzz and anticipation among your followers.
Personalized Content: Share candid stories, personal anecdotes, or motivational quotes to connect with your audience on a deeper level.
Keep that in mind the key to maximizing Instagram Notes is consistency and creativity. Keep your notes engaging and relevant to your audience's interests. Also, keep them concise so they don't take up much space around your profile picture.
Troubleshooting: Why Don't I Have Instagram Notes?
If you're sure you're in a supported region but still don't see the Instagram Notes feature, there might be a few reasons why you don't have the Instagram Notes feature available on your profile.
Outdated App: Make sure you're using the latest version of the Instagram app. The feature might not be available on older versions.
App Glitches: Sometimes, bugs or data caches can cause features not to appear. Try to clear cache or reinstall the app to refresh its features.
Device Compatibility: The feature may not be supported on all iOS devices or Android devices. Ensure your device is compatible with the latest updates.
Internet Connection: A poor internet connection might prevent new features from showing up. Ensure you have a strong internet connection.
Regional Restrictions: Instagram might be testing this feature in specific regions. If you're using a VPN or are in a region where it's not yet available, you might not have access to it.
Account Type: Switching between a personal account and a professional account might make the feature appear.
If all else fails, contact the Instagram support team for further assistance. They can provide more information and assistance related to your account and region.
Wrapping Up
Instagram continues to evolve, offering fun ways to interact with your audience. The Notes feature is just one of the latest in a series of updates aimed at making Instagram one of the most user-friendly social media platforms. Whether you're using it for personal reasons or as part of a marketing strategy, staying updated with the latest features is key to maintaining an engaging and modern presence on this platform.
Remember, this is a relatively new feature, and Instagram's parent company may be rolling it out gradually across different regions. Keep your app updated, and watch for the latest update from Instagram about new features and global availability.