This post may contain affiliate links. If you use these links to buy something we may earn a commission at no extra cost to you. Thank you for your support!
In The Beginning…(Realizing That We Had To Niche Down But Not Knowing How)
When I first started going online as a funnel designer, and eventually transitioned into a digital marketer, I did not know what a niche was. I'm going to explain to you here what a niche means in digital marketing. Had I known this earlier, I would have saved myself a lot of pain.
One day I joined a coaching program that cost me several thousand dollars, but the coaches never addressed our questions about what a niche was and what we should do with this niche word. In real (ahem, physical) life, coming from 17 years' worth of retail pharmacy, I knew that niche items were items that were hard to find and had to be specially ordered for my customers.
But in the online world, did that mean I would have to make myself absolutely scarce?
I asked my coaches several times (no less than 10 times, I think) over the 9 months I was with them about what a niche was and how it could help me. At that time, for some reason, I could not find satisfactory answers about what a niche was on the Internet and was hoping that these very expensive coaches would guide me and let me know how finding this very elusive niche would help me scale my funnel design services or land better clients (what would service providers just starting out want apart from clients and more clients, right?)
It turns out that I wasn't the only one who was asking this question – there were 13 other people who had joined this coaching program with me – and they were asking about niches, too.
Total Newbies (No Idea As To What The Word Niche Meant In Digital Marketing)
Bear in mind we were totally new to the online world of marketing then. The only points of contact I had with the Internet was Google, Facebook and occasionally, Instagram. (I am now several times more adept at finding information and also using all sorts of tools and apps found on the World Wide Web, but that is a story for another day).
We literally knew nothing about digital marketing and the world out there – nothing at all. Nor did we know that there were huge coaches in the online space (we found ours from a Facebook ad), we knew zero about Facebook ads (not recognizing one when we saw it) and that they led to funnels. We didn't know what a funnel was, much less learn to be a funnel designer. In truth, I think all of us were winging it at the point in time.
Long story short, I came out from the coaching program none the better – I knew how to design, but only on Figma. I didn't know what a niche was – still. I would eventually find out the hard way when I started landing all sorts of clients from construction companies to coaches to health trainers.
So, What Is A Niche In The World Of Digital Marketing?
According to Google, "A niche is a place of position that's particularly appropriate for someone or something, especially due to being very specific and different from others. … In ecology, niche refers to the position or function that an organism occupies within its environment among other species of plants and animals."
Ok, this may very well explain why I never found what niche meant in the first place.
Now, I may know to search for 'definition of a niche in digital marketing' — let's see those results.
But this is what I got.
Niche marketing is a highly targeted form of advertisement. With niche marketing, businesses promote their products and services to a small, specific and well-defined audience. Many organizations adopt this strategy to support an underserved population and reap the rewards of brand loyalty."
When I read this sentence, my first thought was — IN ENGLISH, PLEASE. What will total rookies make of such statements?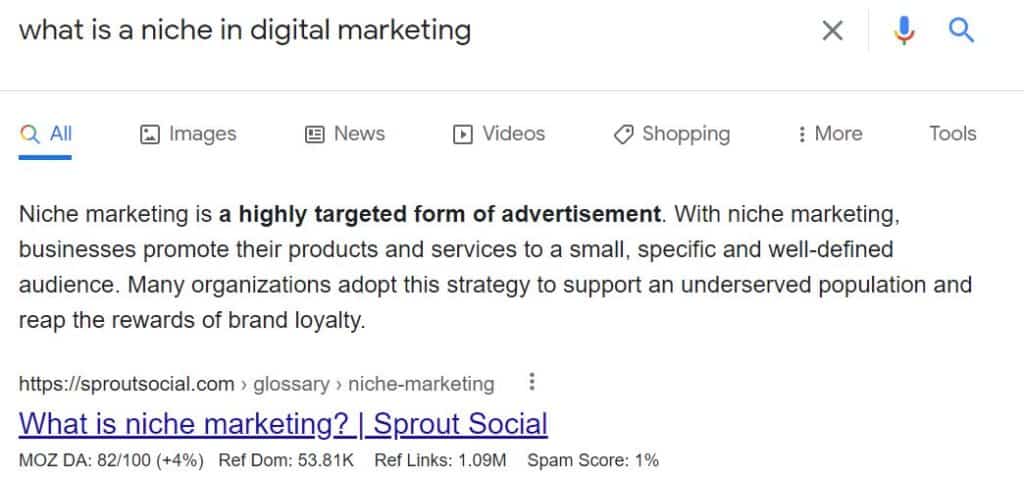 My Thoughts On What A Niche In Digital Marketing Is
If you're a service provider, it's absolutely essential you don't go through what I went through. That means serving everyone and anyone who wants a landing page. Because you're going to have to give yourself a crash course on construction companies' landing pages one week and on a slimming product the next. You will suffer intense burnout in no time.
What do I mean by really specific?
Starting off with the less specific. There are 3 main markets in the online world — health, wealth, and relationships. Any services you see being offered on Facebook ads or on Google will, to some extent, be tied up with one of these 3 markets.
Now, let's niche down.
If you're a social media manager, say — and you want to manage social media accounts for people in the health market.
What you can do is be MORE specific. There are so many types of things you can do within the health industry. Examples include losing weight, toning your muscles, gaining stamina, reducing body (or visceral) fat, etc.
Let's say you decide to go with weight loss (which is under the health industry). So you've niched down one step. You like creating social posts for people who are losing weight.
Let's go one step further. Who would you like to serve? Men or women? Let's say you want to work with women's health coaches.
So your niche now is working with women coaches who focus on helping people lose weight.
Now, this is still a very broad niche. So you may want to niche down further — working with women coaches who focus on helping postpartum women.
Hence you're niching down and being really specific this way: Health>>Weight loss>>Women health coaches>>Women health coaches focusing on postpartum weight loss.
Here's another example:
If you were to do funnel-building services — you may want to help life coaches build their funnels.
There are many types of life coaches, however, so you may want to focus on, say, a life coach that focuses on teenagers in general.
If you were to niche down a bit more, it may be a life coach that helps teenagers with bulimia, anorexia, or depression.
Thus your pathway to niching down will look like this:
Relationship>>life coaches>>teenagers>>teenagers with anorexia.
Now that's being really specific.
However, it's also very, very real, though — this niche. I once did a summit funnel for a client featuring mental health — and teenagers suffering from anorexia is a very real thing.
In short, niching down is knowing you want to serve, and getting more and more specific with it. Why? Read on to find out!
Why Is Niching Down So Important?
Niching down in no way limits your number of potential clients. In fact, if you become really good in your niche, it is only a matter of time before you are known for your expertise in this area.
As a result, it allows you to claim your authority and stand out as the expert. So instead of being a jack of all trades, because then you become a master of none.
For example, if you were a social media manager niching down to women coaches helping mothers who have just delivered to lose weight, after a while, you learn exactly what hashtags this audience will use.
You find out who they follow and what they want to see and learn.You know where to find them, in short. Soon it will be something you know right off the bat.
On the other hand, if you were to be managing social media accounts for different markets and niches, you'll be spending tons of extra time researching who their audiences are, where they're hiding, who they're following, and what hashtags they're using. And because you are not able to focus on a specific niche, you know a bit about every field, but not enough to become an expert in one particular field.
This means, you won't be able to deliver the results your clients need, because your research is all over the place, over every industry and niche.
Conclusion – Niching Down In Digital Marketing
You may be a coach, a service provider, or something else, but finding exactly who your audience is and where they are, will be the best way you can ever serve them and give them what they need.
My niche? Wealth>>Designing>>Funnel designing>>Clickfunnels ONLY. 🙂Though truth be told, I can pretty well design with Elementor on Wordpress now with all the blogging I'm doing!
If you want more information on niches and the different markets you can look at should you want to venture into digital marketing (or are already in it but have no idea which specific audience you should be targeting, these are a few sites you can refer to for more in depth information).