This post may contain affiliate links. If you use these links to buy something we may earn a commission at no extra cost to you. Thank you for your support!
Imagine getting paid for airing your opinions! Online focus groups are a great way to get paid for sharing your thoughts and reviews on products, reading material, and even politics! If you're looking to make some income either from home or as a nomad, this will be something you want to take part in.

This article will walk you through 20 of the best online focus groups that will allow you to participate in them from the comfort of your home AND still get paid for doing so!
Best Online Focus Groups That Pay
The most popular 10 online focus groups are:
What Is A Focus Group?
A focus group consists of a small group of people (usually between 5 to 8) who will gather to share their opinions on products, materials, ideas, branding, packaging, and so on. You can even share your thoughts on politics and political trends.

Focus group gatherings are organized by political analysts and businesses to predict the latest market trends, discover feedback on branding, usage, the viability of a product, and so on.

Some focus groups are confined to certain locations, while some can go international and will require participants from different countries.
What Is An Example Of A Focus Group?
A simple example of a focus group will be one that is held prior to a new launch. If it is a skincare product launch, for example, the company in charge of the product launch will hold a focus group to find out the public's general feedback regarding the product, the advertising material, the packaging, the color, ease of use, and so on.

In short, when you join a focus group, you are essentially taking part in a market research that pays you for your opinions and feedback.
Types Of Focus Groups And How They Work
There are 2 types of focus groups – physical and online.
Physical Focus Group
In-person focus groups will require you to attend the survey or the interview in person. You'll be placed in a group with other individuals and discuss your opinions and thoughts on the topics that are given to you.

There is usually a moderator or a leader that will guide the discussion, give you topics to talk about, record the results, and take down all feedback.

Physical focus groups may require more than one session, and you may be asked to go back for subsequent sessions, but you'll be paid for each session that you take part in. In-person focus groups are usually fun because you get to make new friends, get free coffee, and walk away with $50-$150 in your pocket!
Online Focus Groups
Online focus groups are the trend nowadays, due to their ability to reach people from all over the world and hence, get more diverse and detailed feedback. Unlike in-person focus groups that limit their research feedback to attendees who are within a certain logistical radius, online focus groups usually produce more well-rounded results, hence giving the organizers better statistics and material to work with in terms of enhancing their marketing strategies, packaging of products and revamping of ideas.

You can get paid well for taking part in online focus groups. This is because organizers save on the coffee and venue rental, to begin with, not to mention having to reimburse for long drives to get to the venue for the meet-up. You will only need to be given a link to join a virtual meeting and meet other participants of the focus group there on time to start your discussion.

Businesses are not only pivoting online nowadays but also going global easily and quickly. Focus groups are one of the best ways to ensure they reach the correct target audience with the correct product that addresses the correct problems.
How Much Do Focus Groups Pay?
Depending on the type of feedback and discussion you'll be taking part in, focus groups can pay anywhere between $50-$450 per hour.
How Long Do Paid Focus Groups Take?
Focus groups (whether in-person or online) can take up to 3-4 hours per session. If you're required to come back for subsequent sessions, you'll be paid for them as well.
Online Focus Groups That Pay
Here are 20 of the best focus group websites that pay well in 2022.
1. User Interviews
User Interviews is one of the most popular focus group platforms, having paid out over $15 million in focus group and market research interviews since 2016. Last year alone, over 100,000 of its users got paid. It is used by Pinterest, Amazon, and CNN for conducting such surveys and getting feedback.

You can sign up directly on Google or you can open an account via your LinkedIn profile. Payments for participating in User Interviews may be either in cash, check, PayPal, Amazon or Visa gift card, etc. Payments are called incentives and you are required to be at least 13 years of age to join.

User Interviews offers a wide range of survey topics ranging from consumer goods, family, pets, and transportation to beauty. Payments start at $75 per 30 minutes to $450 per hour of specific one-hour studies.
2. Respondent.io
Respondent.io is a facilitator of both online and in-person market research and survey studies. At the time of publishing, the website cited hourly incentives ranging from $100-$700, depending on your profession. They have several big names as their clients, including Microsoft and IBM.

Like User Interviews, Respondent.io allows you to create an account via your LinkedIn profile. The surveys cover a wide range of topics and specifically ask for audiences such as investors, traders, insurance shoppers, people who send cold emails, and online banking customers, offering to pay anywhere between $50-$100 per hour of their time.
3. Survey Junkie
Survey Junkie is an online market research community that pays you for taking their surveys. Payments can be done in the form of Paypal or gift cards.

At the time of writing, Survey Junkie is not available in many countries. In fact, based on my research, unlike the other two focus group websites above, Survey Junkie seems to be available only in the USA and Canada.

Survey Junkie pays you up to $50 for product testing (they send you the product and pay you to test it) and also pays up to $150 per session for in-person focus group meetings and discussion. If you prefer to answer questions via the phone, you can be paid up to $100 per hour.
4. Google Usability
Google Usability is a Google user experience research program. You sign up and participate in UX research on Google products, whether you use them or not. It pays you up to $75 for every hour you spend with a Google researcher.

According to CallItAdventure.com, you get paid in gift cards, or you can choose to donate the money to charity.
5. Focusgroup.com
Focus Group by Schlesinger promises that no matter how you participate, you will always be rewarded for taking part in market research or survey. It allows you to not only do online feedback, but join focus groups, personal discussions, webchats, video diaries, product tests, telephone conversations, and more.

It also encourages participation by stating that almost anyone can join this program – so go ahead and apply!
6. Research and Field
Recruit and Field is a market research company that offers incentives when you participate in their research activities.

Paid surveys pay between $5-$10 per survey, and activities that require more time and effort to complete will pay $100-$275. A ballpark figure would be $75 per hour. Recruit and Field has also scored 4.9 stars (out of 5) on Facebook and has nearly 600 glowing reviews.
7. Ipsos I-say
Ipsos I-say is owned by Ipsos, a worldwide market research company, and pays you for taking surveys with them. Ipsos being international is found in as many as 88 countries. It has its headquarters in Paris, France, and employs more than 16,000 people worldwide.

You earn i-say points when you participate in surveys, and these points can be redeemed for PayPal cash, gift cards, and even a Virtual Visa Prepaid Card. One point is worth 1 cent if you choose a gift card and 0.98 cents if you want a cash payout through PayPal. Surveys pay between $0.45 to $1.50 each. For more information on I-say rewards points, you can check out this article.

All you need to do is create an account with them and you're good to go!
8. Experience Dynamics
Experience Dynamics provides global design research services. They have conducted UX studies in 33 countries and benefitted over 450m users.

Their research focuses more on usability, where they get feedback on design flaws and conversion barriers from users directly.
9. Springboard America
Springboard America puts you through a quick survey on what kind of techie you are so they understand your demographic before sending you surveys they think you qualify for. They have cashed out as much as $25,991 to their members in January 2022.

You'll have to reach a minimum of $50 accumulated cash before you can have it cashed out. The going rate is $0.05-$5 per 10-minute survey.

More details on how Springboard America works here.
10. American Consumer Opinion
Owned and operated by Decision Analyst, INC, American Consumer Opinion is a legitimate online survey panel. It has over 7 million users at the time of writing.

Short surveys get you paid $0.05 to $0.50, and longer, more complex surveys may get you up to $50 in reimbursement. Payments can be made via PayPal or check.
11. Survey Feeds
Survey Feeds, in their own words, is a one-stop shop for paid studies and focus groups, offering both online and in-person options.

In-person options include one on one studies, focus groups, and clinical research studies, whereas online options offer web conferences, online surveys, and phone interviews (work-from-home option).

You can earn anything between $50-$475. Look out for their most profitable research opportunities by following them on Facebook. Do note that this company only caters to US citizens at the time of writing and it focuses more on user experience (UX) type of research.
12. Mindswarms
Mindswarms requires you to have a clear camera for video surveys. You can do your surveys via a desktop or via their app which you can download on your phone.

They pay within 24 hours via PayPal and offer $50 for answering 7 questions, however – before starting a survey, you'll need to apply (through answering a series of multiple-choice questions) and a reviewer will decide if you qualify for that survey.

As mentioned above, you get paid $50 for answering 7 questions and $10 for one question. It is a pretty decent rate, seeing as it is only one short survey.
13. 20|20 Panel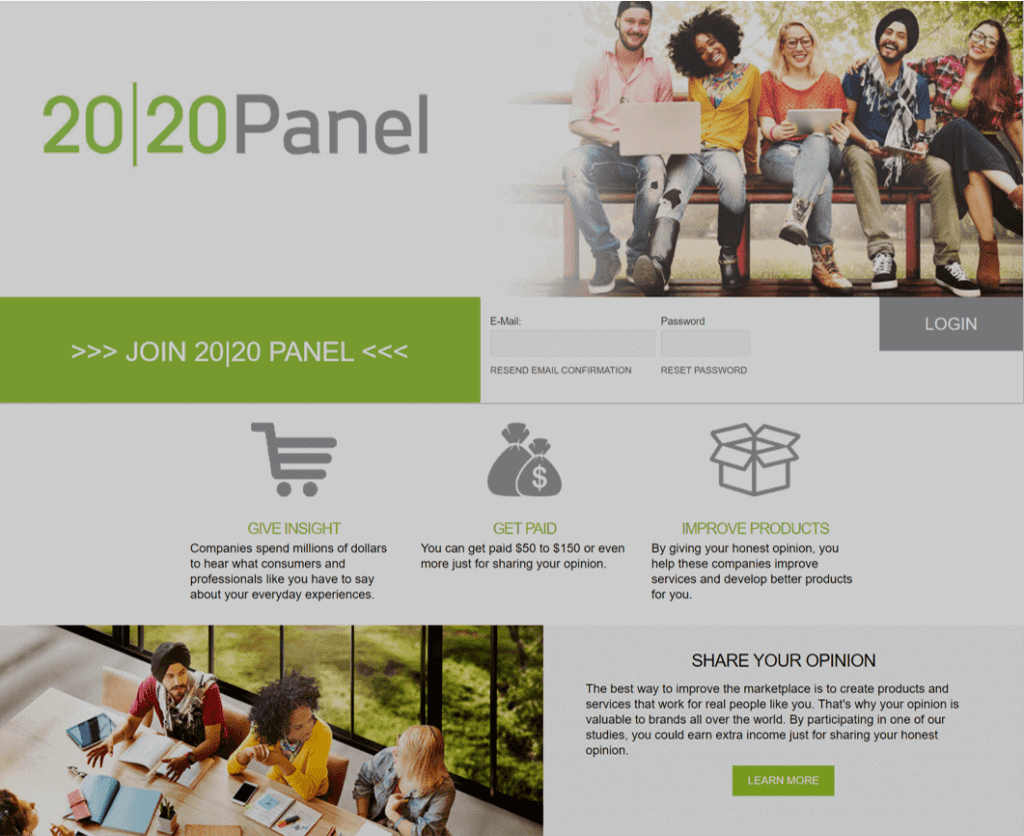 Founded in 1986, 20|20 Panel is dedicated to market research excellence. Their qualitative facilities in Nashville, Charlotte, and Miami are annually "Top-Rated" by their clients in both industry surveys and their own satisfaction surveys.

20|20 Panel wants you to share your opinions to improve the quality of products and services in the marketplace. Payments range between $50 to $150 (and more) per survey.
14. Inspired Opinions
Inspired Opinions, also by the Schlesinger Group, is based in the UK and offers focus group opportunities in-person, online, and through the telephone.

It is an online community comprising people who are interested in sharing their views and opinions on a variety of topics including technology, food healthcare, and more. You'll need to be over the age of 18 to participate. Payments range from $50 to $250 per session.
15. Engage Studies
Engage is always looking for respondents who are interested in taking part in paid market research activities. It offers focus groups, online discussions, web usability studies, and more.

Its page segregates applicants into two groups:
– General consumers and professionals, and
– Members of the medical or healthcare community.

Applicants as of the time of writing are restricted to those living within the USA.
16. SIS International Research
Having conducted research in more than 120 countries, SIS has a team of diverse global experts and world-renowned researchers and analysts.

SIS offers analysis and market research opportunities in a variety of languages including Spanish, Mandarin, Japanese, French, and German.
Payment starts at $150 per hour.
17. Ping Pong
Ping Pong focuses on remote UX research and boasts a pool of over 175,000 testers from all over the world. Their clients include Nestle and Dropbox.

You can earn up to 100 euros per hour for a focus group session and they accept testers from outside Europe.
18. Focus Pointe Global
Having recently taken over by Schlesinger Group, Focus Pointe Global is a sister group to Inspired Opinions from the UK. They mainly offer focus group discussions, both in-person and online.

Payment is between $50-$250 and according to Logical Dollar seems like they have a preference for testers open to discussing various medical issues.
19. Brand Institute
Brand Institute has offices from inside the USA to Seoul and Tokyo. Their main focus is on healthcare and Covid-19, working with big companies such as Pfizer, Moderna, AstraZeneca, and Sanofi.

When creating your account, be sure to list out your medical history clearly to ensure you are qualified for their studies. Payments are made via PayPal.
20. WatchLab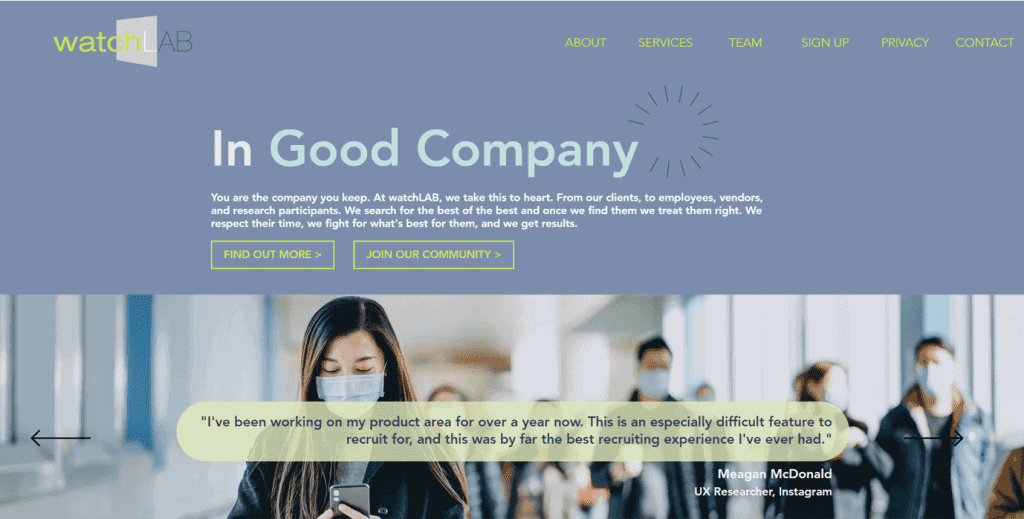 WatchLab offers regular updates and opportunities to join focus groups and market research on its Facebook page.

They offer telephone, webcam, and web-enabled conferences. Traditional in-person focus groups can range between 2 to 200 people. They also offer remote and in-person usability testing via mobile, device, and tablet. They are constantly searching for consumer, B2B, physician, and patient respondents in certain metro markets, such as Chicago, San Francisco, New York, Los Angeles, and Houston. You can get the full list here.
Additional Online Paid Focus Group Opportunities
You can also find paid focus group opportunities on :
What Are The Best Paid Focus Groups Near Me?
Looking to join in-person focus groups to make some money to share your opinions?
Sign up for as many of the websites listed above as possible, and where possible, set your preferences for in-person meetings and state your location clearly, so that you'll be emailed with all the latest focus groups requests.

Many of these focus groups take place over numerous states – so fret not – you will definitely have an opportunity to meet up, get paid, and get free coffee. Otherwise, settle for remote discussions and meet-ups first.
Can You Make A Living Doing Focus Groups?
Advantages and Disadvantages of Doing Focus Groups
Getting paid to do focus groups definitely gets you more online (and offline) new friends and can be a great side hustle, but it in no way makes for a consistent income or is able to provide you with the financial freedom you want.

Making a few hundred bucks over a space of several hours can be really fun, but there is no guarantee that you'll get asked to attend one on a regular basis. In fact, sometimes opportunities are few and far in between (unless you settle for smaller, lower-paid surveys online) so I wouldn't bank on making a living doing focus groups.
Frequently Asked Questions
1. Are $350 surveys real?
Yes, they can be real. It depends on your profession, the type of company that is looking for feedback, and the magnitude of the impact the focus group results are going to have on their marketing and advertising strategies. There are also focus groups that pay a lot less, and some a lot more.
2. Are paid focus groups legitimate?
Many are very legitimate, having been around for many years and featuring huge brands on their website as clients. It is recommended to do some research before joining any because there are (rare, but there are) companies that are scams, leading to phishing issues and a waste of time.
3. How do you find focus groups?
The list above will help you to find many focus groups nearby you or on a remote basis. You can also search for them on Facebook, Google, LinkedIn, and advertising sites such as Craigslist.
4. How do I join a focus group?
Most focus groups will require you to open an account (for free) with them, after which you'll be asked to fill out a questionnaire about yourself before they send you focus group invitations via email based on what they feel is more suitable for you and on how your opinions and feedback can help them.
Final Thoughts
Do Your Thoughts Matter?
If you're looking to make a side income (albeit an inconsistent one) that will tide you through tough times and also give you more financial security on top of your full-time job, jump in and get paid to share your opinions and feedback. You may feel that your opinions and experience may not be enough to make a difference, but you'll be surprised at the amount of value you can actually provide – whether it's about a product, user experience, thoughts on the packaging, and more.

It's not something that'll get you making a 6 figure income, but it's a fun way to earn some dough and make friends too!