This post may contain affiliate links. If you use these links to buy something we may earn a commission at no extra cost to you. Thank you for your support!
Disclaimer: All of these courses have been strictly handpicked for beginner freelancers only. It is my ambition to help you overcome your freelancing obstacles as quickly and as seamlessly as you can and eventually make a consistent monthly income to give you your time and financial freedom.
When you're starting out as a freelancer (and even if you have been one for some time), the same challenges strike time and again – you need new clients, you want to be in high demand, and you want to eventually have your own business and run your own agency of freelancers.
A freelance career means you need to garner as many new skills as you can because having more skills means a higher chance of getting hired and more freelance work.
The good news is, that you don't have to go through numerous trials and errors to get ahead – there are a lot of online freelancing courses available at affordable prices that you can learn to improve your skills quickly and get you seen by more potential clients.
This blog post will walk you through some of the best online courses for freelancers, both free and paid, and you can take your pick!
Here is a chart of the best freelancing courses, compiled as of August 2022.
Why Online Learning?
An online course is mostly affordable and time-saving and you get access to the modules immediately. Most courses take less than a few days to learn and many are available on mobile apps, allowing you to learn on the go. Most courses also offer lifetime access, and you are able to learn at your own pace. With these courses, you are able to hone your creative talents and business skills.
Which Online Course Is Best For Freelancing?
There are many different courses available on the Internet, however, so the easiest way to determine the best course for you will be to leverage your existing skills and strength, and see which type of freelancing jobs you want to do – be it a virtual assistant, web designer or graphic designer, doing social media marketing, and more.
All online courses will offer classes via video lessons and downloadable resources.
Best Online Courses For Freelancers
Here are 19 of the best freelancing courses you can take to kickstart your freelancing career the right way and also to scale your current freelancing business.
These recommended courses come in the form of online classes comprising video lessons. Some are free courses, while others are paid ones. There are training courses on different types of niches. I'll also show you what each course covers, and what you'll get at the end of each course.
All of these courses have been strictly handpicked for beginner freelancers only. It is my ambition to help you overcome your freelancing obstacles as quickly and as seamlessly as you can and eventually make a consistent monthly income to give you your financial freedom and work-life balance.
Graphic Designer And Web Designer
This graphic design course teaches you how to use Photoshop and Illustrator, and how to create designs for branding and logos.
Much like Figma, Photoshop is a great to-know for web designers.
Price: $13.99
Duration: 24.5 hours of on-demand video
What You'll Learn:
Learn how you can make money with Photoshop by making website designs
See how I make $4000 from several projects
Included 50+ Premium PSD files of mine + other materials to help you develop your skills
Learn how to be efficient and cut down the time it takes to complete a project
The course includes multiple hours of actual designing, but that is optional. Don't let the length scare you.
Create a high constant income by immediately monetizing your work.
Learn to create amazing-looking websites in Photoshop, even if you have little to no experience with this platform. This way, you'll be able to showcase your designs on platforms such as 99designs, Crowdspring, Designcrowd, and more, and attract numerous potential clients.
Price: $19.99
Duration: 29 hours of on-demand video
What You'll Learn:
Have a deep understanding of typography, color theory, photos, layout, blocking, and other design theories and skills
Understand and learn the essential tools and capabilities of Adobe Photoshop, Illustrator, and InDesign
Create logos and branding packages for potential clients
Learn photo editing and manipulation in Adobe Photoshop
Master the pen tool, shape builder tool, and other essential vector design tools in Adobe Illustrator.
How to create editorial spreads and magazine layouts using Adobe InDesign
Understand solid logo design and ad design principles to create compelling campaigns and logos
Work through the entire package design process
Learn non-destructive editing techniques in Adobe Photoshop
Work through an event flyer design to understand strong type hierarchy, balance, and overall design layout
Learn a few of the upcoming design trends for 2022 and how to create them!
Learn the history of fonts and typefaces and how to pair fonts
Learn the basics of Affinity Designer and learn the difference between Adobe Illustrator and Affinity Designer
Work through a 7-page vector tracing worksheet and feel confident creating a complex vector illustration by the end of this worksheet
Learn how to work with multiple page layouts in Adobe InDesign and create a cookbook cover and book
Learn the step-by-step process of becoming a graphic designer
Learn how to work with Photoshop Mockups to create great presentations
Learn word mapping and brainstorming techniques to increase your creativity in logo design and branding projects
Learn the Double Exposure Effect in Adobe Photoshop
Create Vector Art in Adobe Illustrator
Learn How to Encourage and Spark Creativity
How to create YouTube thumbnails and social media graphics
How to properly give and receive critiques and feedback
Understand how to create 3d objects and typography in Adobe Illustrator
Discover the latest 2022 updates to the Adobe software and understand the new artificial intelligence filters and tools
Learn how to predict future design trends and complete projects that use the most up-to-date trends
Freelance Writer
Want to become a freelance writer? This course helps beginner and intermediate-level freelancing writers gain traction, write well and land clients successfully.
Price: $9.99
Duration: 3.5 hours of on-demand video
What You'll Learn:
Start your first year as a freelance writer
Submit your writing to paying markets all over the world
Live a life of fun, independence, and fulfillment
Plan a new career outside of the nine to five
Write in all kinds of categories for profit
If writing is your jam, here is a list of 35 of the best freelance writing sites, best practices when it comes to writing, and how you can earn extra money as a freelance content writer, even if you're a complete beginner.
Price: $11.99
Duration: 10 hours of on-demand video
What You'll Learn:
Build a successful freelance writing career with clients in as little as 5 weeks. This course is perfect for those who want a new career from home or want to make more money on the side of a regular job. This course is also a great course for professional writers.
Video Editing
This course helps both beginners and advanced-level freelancers edit better videos with Adobe Premiere Pro. It includes video lessons on color grading, motion graphics and also the green screen.
Price: $13.99
Duration: 24.5 hours of on-demand video
What You'll Learn:
Master Premiere Pro and be CONFIDENT Editing Your Own Videos
Edit an entire video from beginning to end, using professional and efficient techniques.
By the end of the course, you'll have edited your promo video with the supplied footage (video clips, photos, graphics, music, etc.), or your own footage!
Start a project with the right settings for any type of video, from any camera.
Export and save your videos for 4K & High Definition playback.
Edit your videos, and make them more dynamic with cutaway footage and photos.
Design clean and professional titles for your videos.
Add motion to your titles, photos, and videos… making them more visually interesting.
Color correct your video to fix issues with white balance and exposure.
Add a feeling to your video with color grading.
Apply visual effects such as stabilizing shaky video, removing grain, and making video more cinematic with overlays.
Edit green screen footage and, add backgrounds that actually look good.
This is a guide to editing great-looking and sounding videos, regardless of what software and equipment you use. A perfect course for the video editing freelancer!
Price: $9.99
Duration: 16.5 hours of on-demand video
What You'll Learn:
Step-by-step process to take your video footage, organize, edit, and export an incredible-looking video!
Optimize your workflow and understanding of the editing process to create videos as efficiently as possible!
Choose the absolute best audio and video filters that fit your personal video style!
Create professional-looking and sounding videos using optimized editing techniques with virtually any footage!
Blend together sound effects, background music, voiceovers, and other audio elements all into each of your videos!
Use multi-cam, color correction, LUTs, sound design, transitions, motion graphics, and editing theory to create more engaging content!
Create a higher production value look and develop confidence with your editing software!
Impress your viewers, audience, and/or clients with completely pro-looking and sounding videos!
This course walks you through organizing your assets and teaching you the basics of editing and trimming. You'll also learn how to assemble images and shots to create a flow.
Price: Free trial for 30 days
Duration: 37 mins
What You'll Learn:
Explore the impact of pacing and tempo and the influence of audio on the viewing experience. See how to work with still images and fix problems with footage. Plus, discover how to enhance and polish your final cut with effects, color correction, and titling.
LinkedIn Profile And LinkedIn Marketing
Create the perfect resume and be the best interviewee! Land your quickest job as a beginner freelancer!
Price: $15.99
Duration: 11.5 hours of on-demand video
What You'll Learn:
Build your perfect resume (using a format I have successfully used for more than 20 years).
Interview better than anyone else (you will be able to answer ANY interview question and turn your weaknesses into strengths).
Build your perfect LinkedIn profile (learn how to get more recruiters & employers to find you).
Network better than anyone else so you can get your dream job (or even get customers etc).
Goals: Know what your career goals are (no limits) through an optional goal setting workshop.
Passion: Know how to figure out what career you are most passionate about so that it feels like you don't have a job…you have a passion!
Turn your 'perceived' weaknesses into strengths.
Answer any question you have no idea how to answer.
Know what to bring to the interview to increase your chances of getting hired (your competition will definitely not do this…). These interview exhibit secrets helped me change careers many times.
Add structure to your answers and use frameworks that the interviewer will appreciate and understand.
Know how to talk about your strengths in interviews so your answers are powerful, passionate, inspirational and right from the heart.
Understand what you need to know about the company you are interviewing at. I will show you an easy way that Wall Street analysts use to research firms from a qualitative perspective, which will make you look awesome!
Learn LinkedIn marketing and get leads that'll give you income as a freelancer by optimizing your LinkedIn profile and using great outreach strategies.
Price: $14.99
Duration: 5 hours of on-demand video
What You'll Learn:
How to generate a massive amount of leads using cutting-edge sales & marketing LinkedIn lead generation strategies
How to optimize your LinkedIn Profile to get 10x more visibility and generate leads
How to convert LinkedIn leads and conversations into REAL meetings via phone or in-person
Access to the MOST EFFECTIVE LinkedIn Cold Outreach scripts and templates you can use in almost any situation
The best LinkedIn Social Selling strategies turn total strangers into paying customers
The MOST EFFECTIVE LinkedIn Marketing strategies to capture your audience's attention and convert them into warm leads
How to send cold LinkedIn Messages and get a meeting with ANYONE from small, medium, and Fortune 500 companies
How to create top-tier LinkedIn marketing content to generate massive leads from text, video, downloads, and more
How to create a LinkedIn Group and a LinkedIn Company Page to build your profile credibility
How to drive traffic to your website using LinkedIn Videos and LinkedIn Blog Posts
Certificate of Completion
Showcase on your LinkedIn profile under the "Licenses and Certificates" section
Download or print it out as a PDF to share with others
Share an image online to demonstrate your skill
Social Media Marketing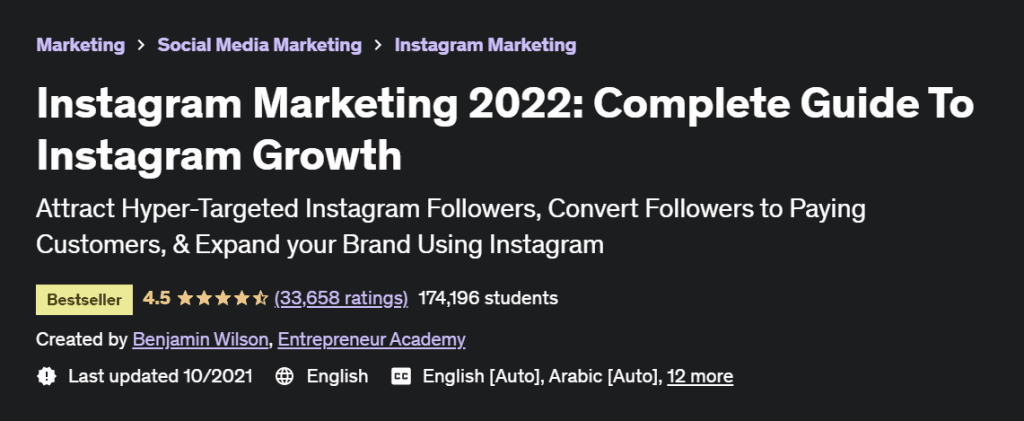 Attract real followers and convert them into paying customers on Instagram by using your brand the right way.
Price: $17.99
Duration: 7.5 hours of on-demand video
What You'll Learn:
Have a powerful Instagram account setup for your Business or personal so that you can build your brand and convert your followers into paying customers.
Attract 10,000 real targeted followers to your Instagram account!
Convert your new Instagram followers to long-term loyal paying customers who love your business!
By the end of this course, you will know all the strategies to grow your followers & convert your successful Instagram into sales & loyal customers
We are up to date with all Instagram features & will guide you step by step on how to utilize these functions to grow your account and market your business.
Get seen on Facebook as a freelancer by learning the secrets to Facebook marketing, promoting in business groups, Facebook pages, and doing Facebook lives. You'll also be pick up an amazing social media strategy and create your online presence fast.
Price: $12.99
Duration: 6 hours of on-demand video
What You'll Learn:
Grow fans, engagement, and customers using Facebook
New lecture with 25 strategies to promote your business on Facebook
World-class student care by a caring instructor
Maximize the reach of every one of your Facebook updates
Difference between promoting your business with personal accounts, business pages, groups, and fan pages
Create a store right on your Facebook page and sell from it
Office hours to get advice and have your Facebook marketing questions answered by an expert
Get more likes, shares, and comments on your Facebook posts
Facebook hacking for virality
Freelancers need to market their businesses on social media. We may not necessarily enjoy it, but we can ensure it works for us. Instructor Sam Dey walks you through the different types of social media, the types of content you should post for the most impact, and how to leverage Google Analytics to boost your reach.
Price: Free trial for 30 days
Duration: 55 mins
Certificate of Completion
Showcase on your LinkedIn profile under the "Licenses and Certificates" section
Download or print it out as a PDF to share with others
Share an image online to demonstrate your skill
Time Management
Time management and organization techniques to help you to finally get your important tasks prioritized in the correct order and done.
Price: $9.99
Duration: 2 hours of on-demand video
What You'll Learn:
This course is for people who want to get the things done that really matter in their lives
in 7 easy to follow steps you will learn
How to find out the things that would really make a great change in your life
How to block time to work on these things on a daily basis
How to stay motivated to accomplish it all
This course does not show you how to squeeze even more out of your little time, it rather teaches you on how to sort the wheat from the chaff and how to finally become the
Virtual Assistant

Learn how to be a virtual assistant in this course that shows you the skills both large and small businesses want in their virtual assistants. Watch how you can start your own VA business and how you should be charging your clients.
Price: $13.99
Duration: 3.5 hours of on-demand video
What You'll Learn:
Learn the digital skills both large corporations and small business entrepreneurs are looking for in a virtual assistant.
Make your resume stand out with technical skills that make you eligible for high-paying positions.
Discover where to find and apply for virtual assistant positions.
Learn how to start a Virtual Assistance business such as what prices to charge.
Courses With Certification
Freelancers need to be able to stand out and be defined by their own branding. Learn how to craft powerful messages and tell great stories. Learn also how to define your audience and create constant fresh content to attract new clients.
Certificate of Completion
Showcase on your LinkedIn profile under the "Licenses and Certificates" section
Download or print it out as a PDF to share with others
Share an image online to demonstrate your skill
Price: Free trial for 30 days
Duration: 47 mins 54 seconds

A course to get you certified as a community manager so you are able to manage and connect online communities (such as Facebook groups) while fully understanding the platform's policies and regulations.
Price: Free
Duration: 105 minutes
Facebook offers a huge range of courses that get you certified. There are marketing courses and even a training course on Facebook ads, which is a great thing to know and do for your clients.
View all other Meta Certified Courses here.
Best Freelancing Courses For New Freelancers
A very popular and free course that most freelancers want to know – is how to navigate Fiverr so you get hired as soon as possible.
Price: Free
Duration: 50 minutes
What You'll Learn:
Getting started with Fiverr
How to create a freelance profile with Fiverr
How to create your first Gig with Fiverr
How to develop a New Gig with Fiverr
Essential parts of Fiverr

Another popular freelancing platform that will allow you to find work fast.
Price: Free
Duration: 2 hours
Discover how to kickstart your career as a freelancer using Upwork
Create your first portfolio to show your projects in Upwork
Set up your payment and billing information in Upwork
Optional Practice task: Create a portfolio in Upwork showcasing your skills
Find jobs that match your qualifications in Upwork
Write an interesting and engaging proposal to find a job in Upwork
Optional Challenge Task: Create a proposal
This course by Seth Godin introduces you to the world of freelancing, regardless of the industry you previously worked in. It'll teach you to adapt to the world of the Internet, where faceless people pay you for services regardless of your gender, nationality, and background.
Seth also guides you through approaching the correct people at the correct time and why it is so important to overdeliver. This helps you to eventually become known as the authority in your niche and allows you to command higher salaries and scale your online business.
Price: $199.99
Duration: 4.5 hours of on-demand video
What You'll Learn:
Master how to make your work unique, create a well-known brand, find clients, and increase demand for your products or services
Understand what it takes to be more than the average freelancer
Turn professional and make a commitment to finding better clients and doing better work
What Skills Do I Need For Freelancing?
To be a successful freelancer, you will need to be resourceful, willing to learn and be a bit of a digital marketing geek, because you will have to pick up new skills, master new platforms (such as different email marketing platforms, designing platforms, and more) and work with different clients who use different apps and software.
You'll also need to be very organized and have great time management (hence the course on time management included above) so you never fall behind in your deadlines or submit sloppy work.
Finally, you'll need to be independent and be able to work without much help or reliance on your teammates, especially if you're going to be working remotely from home.
Wrapping Up
If you're just starting out, Seth Godin's Freelancer Course is a great course to give you more insight into the world of freelancing. You will learn what to expect, how to manage and field questions from potential clients, what to say when people question your skills, and more.
However, if you already have an idea of what it is you want to do – maybe you're into video editing or web design or virtual assisting – then you will know the right course to pick to get yourself into that next level.
I have been freelancing since 2020 and these are courses (no affiliate links) very close to my heart that I genuinely feel I should have known about when I first started out.
Freelancing requires hard work for sure, but it is freeing when you are able to work on your own schedule and do not need to compare degree programs with other freelancers or applicants. I hope this blog post helps you to build your very own successful freelance business!