This post may contain affiliate links. If you use these links to buy something we may earn a commission at no extra cost to you. Thank you for your support!
When you're building a sales funnel or a landing page for your business, two popular options often come to mind: ClickFunnels and Instapage. Both platforms offer unique features and benefits to optimize your marketing efforts. Navigating the distinctions between the two can be overwhelming, but understanding their differences is crucial to determine the best fit for your needs.
Clickfunnels vs Instapage: I'd be going through the features, advantages and disadvantages of both platforms and coming up with a winner.
ClickFunnels is primarily a comprehensive sales funnel builder that simplifies the development of marketing funnels for your product or service. It focuses on offering a self-contained solution for close-knit funnel creation. On the other hand, Instapage functions as a powerful landing page builder, designed to blend seamlessly with numerous third-party platforms, providing built-in A/B testing tools and robust analytics.
As you explore the options, keep in mind that each platform has its own set of strengths and weaknesses. Whether you prioritize flexibility, ease of integration, or comprehensive funnel management, taking the time to understand these key differences will ultimately put you in a better position to make the right choice for your business.
Clickfunnels vs Instapage: Overview
In this section, we'll be providing you with an overview of Clickfunnels and Instapage, two popular landing page tools designed to help you grow your online business. We'll discuss their main features and differences, so you can have a better understanding of which tool could be most suitable for your needs.
Clickfunnels Overview
ClickFunnels Classic pricing plans
Clickfunnels is a powerful sales funnel tool that allows you to create high-converting landing pages, opt-in forms, and sales funnels to increase your conversion rates. With a simple drag-and-drop builder, you can design and customize your pages without needing any technical skills. Some key features of Clickfunnels' basic plan include:
20 funnels: The basic plan allows you to create up to 20 funnels for your online business.
100 pages: You can design up to 100 pages in total across all your funnels.
14-day free trial: Test out the tool and its features before committing to a paid plan.
On the other hand, the Platinum plan gives you unlimited funnels, pages, a and b tests features, an affiliate center called Backpack, and an email marketing tool that allows you to nurture your lists and manage your emails addresses in one place called Actionetics. With the Platinum plan, you can manage your sales pages, funnels, statistics, payment gateways and email marketing campaigns all in one place.
Clickfunnels focuses on helping you create comprehensive sales funnels, guiding your potential customers from the first touchpoint all the way to making a purchase.
There are several other extras that come with Clickfunnels that I truly, truly like, and I'll elaborate on these further down the article.
Instapage Overview
On the other hand, Instapage is a dedicated landing page tool that primarily focuses on improving your conversion rates through A/B testing and optimization. This platform offers a user-friendly interface to design beautiful landing pages and forms, as well as the following features:
Unlimited landing pages: Create as many landing pages as you need for your campaigns.
Unlimited visitors and domains: No restrictions on visitor traffic or connected domains.
$299 per month: The basic plan starts at a steep monthly rate.
Instapage is more focused on optimizing individual landing pages and testing different versions of them, providing you with the necessary data to make the best decisions for your online business.
What makes Instapage special is the ability for you to create different pages to cater to different target audiences if you are running Facebook ads. This is also doable with Clickfunnels, but at a slightly more tedious rate. Similar to Clickfunnels, Instapage also lets you run a and b split testing so you know which landing page is doing better, has more page views and produces better results.
Instapage is also one of the few landing page software that allows you to leverage the power of A.I to create content variations. This powerful tool automatically gives you suggestions on what you can put inside your CTA buttons, headlines and body text. If you are designing your funnel and doing copywriting at the same time, these essential features can help you achieve your goals so much more easily.
In conclusion, both Clickfunnels and Instapage are powerful tools for creating effective landing pages and improving your conversion rates. Depending on your specific needs and goals, one of these platforms may be more suitable for your online business than the other.
Key Features Comparison
Editor and Design
Both ClickFunnels and Instapage offer user-friendly drop editors that allow you to create high-converting landing pages without any coding experience. With ClickFunnels, you can start with a blank page or choose from a variety of pre-designed templates. Instapage also provides a versatile editor with flexible layout options and drag-and-drop functionality to customize elements on the page.
Below is an example of a workout landing page I built in Clickfunnels: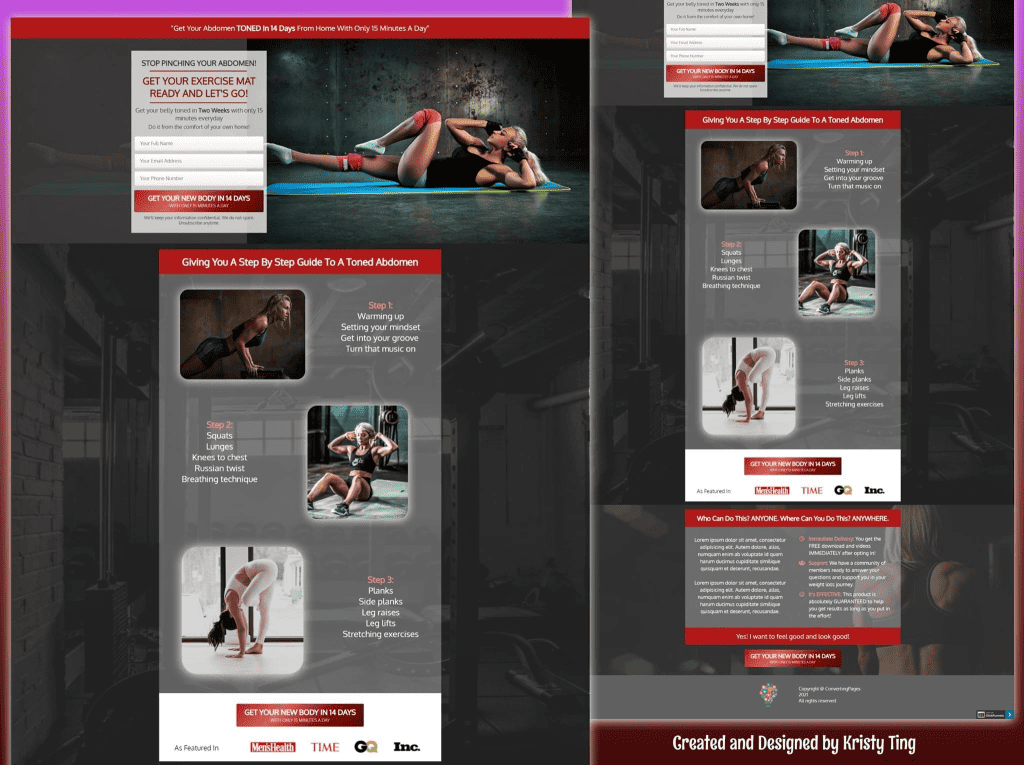 Templates and Customization
ClickFunnels and Instapage both have a wide range of landing page templates to choose from, catering to different industries and marketing goals. With ClickFunnels, customization options allow you to add various elements such as headlines, images, forms, and buttons, while Instapage offers more advanced design features, including dynamic text replacement for tailored messaging based on the user's search query.
While the Instapage landing page builder is indeed impressive, if you're only looking to be building landing pages and not really copywriting; or you are used to generating your own copy, Clickfunnels will be the go-to choice. After all, with all the different A.I copywriting generating tools you have nowadays such as Koala (based on ChatGPT) which only starts a $9 per month, getting Clickfunnels' basic plan of $97 plus Koala's $9 monthly subscription will save you so much more rather than paying $299 per month for Instapage.
Freelancers, entrepreneurs and small businesses are always looking to stretch that dollar. This is definitely a great way to save some money.
A/B Testing and Analytics
To optimize your landing pages for better conversions, both ClickFunnels and Instapage provide built-in A/B testing and analytics tools. With ClickFunnels, you can easily create and manage multiple variations of your landing pages and track their performance.
There is a statistics page that shows you the performance of each split test and which one you should eventually pick as a clear winner.
Instapage offers more robust analytics capabilities than ClickFunnels, including reporting on heatmaps, scroll depth, and form submissions. Additionally, Instapage's A/B testing feature allows you to accurately measure the impact of different page elements on your conversion rates.
On the other hand, if heatmaps matter to you, getting ClickFunnels together with Hotjar (a heat mapping tool) may also be a smart choice. Hotjar subscriptions start for free, and when you upgrade to get more features, you pay only $32 per month.
Integrations and Add-Ons
Both tools offer integrations with popular marketing platforms, such as MailChimp, Google Analytics, and social media networks. Both ClickFunnels and Instapage allow you to build an entire sales funnel, and integrate that with other platforms (either directly or via Zapier) such as CRM, email marketing automation tools, Slack channels, Google documents, payment gateways, and even trigger contracts to be sent for signing, such as Docusign. This makes it easier for you to connect your landing pages with other marketing channels and streamline your campaigns.
Ease of Use and User Experience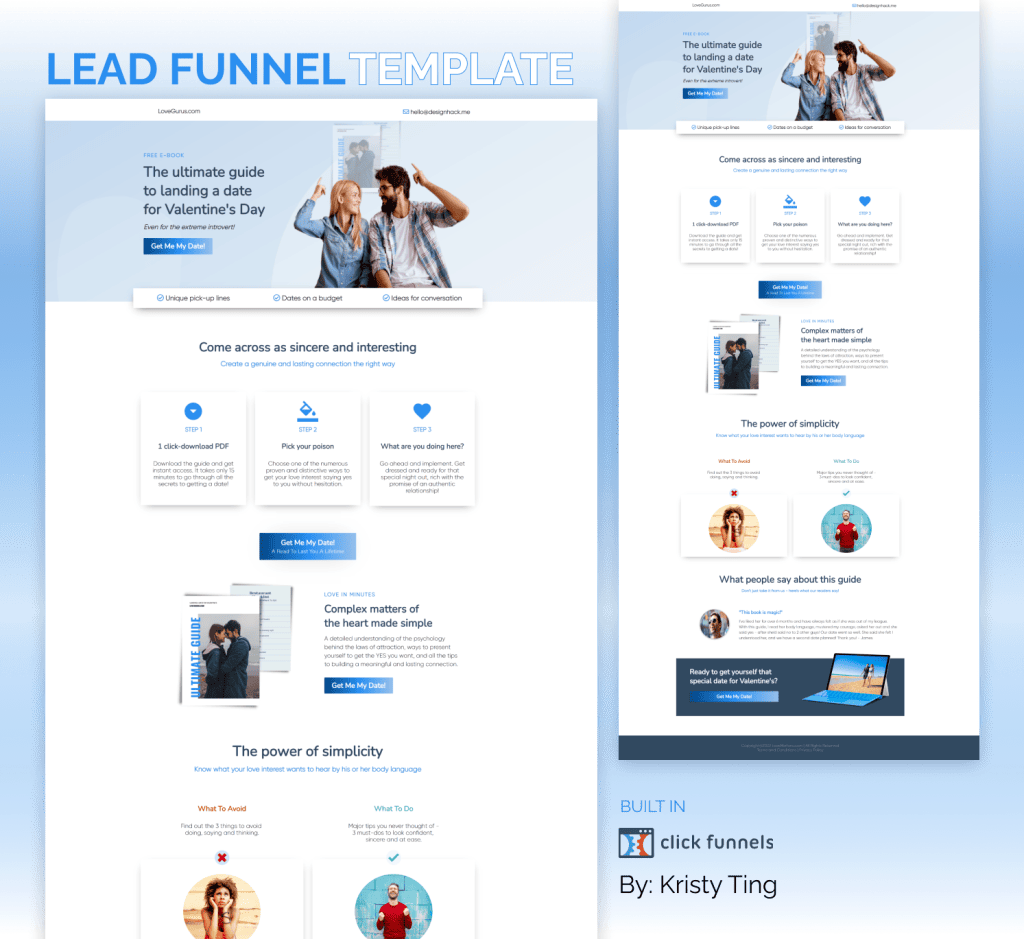 Drag-and-Drop Interface
Both ClickFunnels and Instapage offer user-friendly drag-and-drop interfaces, allowing you to easily create and customize your landing pages. Instapage's Pixel Perfect Drag-and-Drop Builder ensures that you have complete control over the layout and design of your page. ClickFunnels, on the other hand, has a simple yet efficient drag-and-drop interface, making it easy for users to build sales funnels and landing pages.
To summarize:
Instapage: Pixel Perfect Drag-and-Drop Builder
ClickFunnels: Simple and efficient drag-and-drop interface
Clickfunnels work very seamlessly with CSS coding, allowing you to bring your designs to the next level.
Mobile Responsiveness
In today's digital landscape, having mobile-responsive landing pages is crucial. Both ClickFunnels and Instapage understand this; their platforms automatically generate mobile-responsive designs that adapt to different screen sizes and devices. This ensures a seamless and consistent user experience for your leads, regardless of the device they are using.
More than 50% of people view your sales page from mobile devices. Therefore using a website builder or a sales funnel builder that can be optimized for mobile devices is extremely important. Your pages should also be able to allow a credit card checkout, collect emails with a lead magnet, and have beautifully designed checkout pages. Heaven forbid we lose sales and leads because of badly designed or non-mobile-optimized pages.
Both ClickFunnels and Instapage are equipped with these features.
Learning Curve (Important!)
It's essential for any marketing tool to have a manageable learning curve to help you create compelling campaigns faster, especially if you're new to the platform. ClickFunnels has various built-in templates, making it easier for you to get started with its platform. Instapage, on the other hand, offers an extensive library of customizable templates that cater to different industries and use cases. Although Instapage has a slightly steeper learning curve, it provides you with greater flexibility and options for your landing page design.
In conclusion:
ClickFunnels: Short learning curve, built-in templates
Instapage: Steeper learning curve, extensive template library
At the end of the day, the choice between ClickFunnels and Instapage depends on your specific needs and preferences. If you value a simpler interface and quicker start, ClickFunnels might be the better option for you. However, if you prioritize more customization options and advanced features, Instapage could be the way to go.
To be completely honest, I have not seen any other platform give the type of training and support that ClickFunnels provides, and I have been designing and funnel building on MANY different platforms.
This is the extra feature of ClickFunnels that I really need to highlight that makes it stand out from its competitors.
With other funnel-building platforms, you sign up. You get the occasional email to become an affiliate or to thank you for using their platform, and then the rare emails telling you they have an event they'd like you to join.
With ClickFunnels, you are nurtured from day one.
You get warm and happy emails on a daily basis, teaching you the importance of copywriting, designing, the differences between websites and funnels, free online courses, free challenges on how to get leads, free webinars on how to grow your businesses, and more.
It is as if the team behind ClickFunnels really wants to see you succeed as not only small business owners but as freelancers, entrepreneurs and solopreneurs. It gives you tons of resources and education on a daily basis.
If you're new to funnels, ClickFunnels has your back. It's that simple.
Not only that, it promotes a sense of belonging. Upon signing up for this software, you are given a swag box containing books, a t-shirt, and some other gifts to make you feel as if you are really one of them. As yet, no other funnel-building platforms have gone to such lengths to make you feel welcome.
The founder himself, Russell, offers tons of free lead generation ebooks, funnel cookbooks and so much more – so that as a newbie to funnels, you are well supported with a huge library of information, and a strong Facebook group to boot.
This was extremely helpful to me when I first started building funnels in 2020. It is as if the whole of the ClickFunnels team watches out for new freelancers, and not just treat you as another nameless figure who signed up for their software.
Business owners that make over 7 figures using ClickFunnels get to walk across a stage to receive awards from ClickFunnels. There is an FHL (funnel hacking live) event that takes place every year, and thousands of entrepreneurs all over the world fly over to attend it, network, get inspired and learn from all the amazing guest speakers who will be talking on stage.
Unique Features and Functionality
In this section, we will compare the unique features and functionalities of ClickFunnels and Instapage, focusing on their capabilities in sales funnel building, lead generation, membership sites, and webinars.
Sales Funnel Building
When it comes to sales funnel building, ClickFunnels is a complete platform that allows you to create a variety of sales funnels from scratch, integrating elements such as landing pages, upsells, downsells, bridgesales and one-time-offers (OTOs).
On the other hand, Instapage is primarily a landing page builder with powerful design capabilities, but not specifically built for creating comprehensive sales funnels.
Lead Generation
As for lead generation, both platforms offer tools to help capture leads effectively. ClickFunnels provides lead capture forms and integrates them into your sales funnel. Instapage, while not a sales funnel platform, also includes lead capture forms that can be easily added to your landing pages.
Membership Sites
If you're looking to create membership sites, ClickFunnels is the better choice as it has a built-in feature for creating password-protected membership areas for your customers to access exclusive content or courses.
Instapage, being a landing page builder, does not have this capability.
Webinars
In the area of webinars, ClickFunnels proves to be more versatile. With the help of its webinar funnel functionality, you can promote, host, or run automated webinars with ease. Instapage, on the other hand, does not offer any built-in features for webinars. However, it can still be used to create compelling landing pages to promote third-party webinar platforms.
ClickFunnels also has a countdown timer element, allowing you to create a sense of urgency and scarcity on your page. Once the timer ends, you can choose to redirect the page to a different or new funnel, URL or stay on the same page.
To sum up, each platform has unique features that cater to specific business needs. ClickFunnels is a better fit if you require a comprehensive sales funnel builder, membership sites, or webinars. Conversely, Instapage excels in creating optimized landing pages and lead generation but lacks the additional features offered by ClickFunnels.
Support and Community
Customer Support
When it comes to customer support, both ClickFunnels and Instapage offer a variety of options to help you resolve any issues that may arise. ClickFunnels has a massive Facebook group, boasting almost 300,000 members at the time of this writing. You can make use of this community to interact with other users as well as support staff. Instapage, on the other hand, doesn't have a large Facebook group but does provide a community forum, enabling you to ask questions and share experiences with fellow users.
Knowledge Base and Tutorials
Both platforms provide extensive knowledge bases, helping you troubleshoot and learn more about their respective features. ClickFunnels offers step-by-step tutorials, articles, and video guides, allowing you to effectively utilize the platform. Similarly, Instapage's knowledge base includes articles, video lessons, and helpful tips to tackle common issues and enhance your understanding of the various functions.
Live Chat and Team Collaboration
When you need immediate assistance, live chat is a convenient feature to have. ClickFunnels provides live chat support during business hours, ensuring that your questions are answered promptly. However, be aware that response times may vary depending on the number of users seeking assistance. Instapage, in comparison, offers 24/7 live chat support to ensure your questions are addressed at any time, day or night.
In terms of team collaboration, both ClickFunnels and Instapage enable you to add multiple team members to your account, allowing you to collaborate effectively on projects. This level of collaboration is particularly valuable for organizations with multiple stakeholders or distributed teams.
Pricing and Plans Comparison
When comparing ClickFunnels and Instapage, it's essential to consider their pricing and plans to determine which one is the best fit for your needs. In this section, we'll take a look at the Free Trial and Free Plan, the Basic and Enterprise Plan, and help you decide which plan is right for you.
Free Trial and Free Plan
Both ClickFunnels and Instapage offer a free trial period for you to test their platforms. ClickFunnels provides a 14-day free trial allowing you to explore the tool before making a decision. However, they do not offer a free plan.
On the other hand, Instapage does not offer a free plan either, but they do have a free trial for you to test their services.
Basic and Enterprise Plans
ClickFunnels offers a Basic Plan priced at $97 per month or $970 annually, saving you 2 months' worth of subscription fees. This plan includes:
Drag-and-drop editor
Funnel template
Sub-page creator
20 funnels
100 pages
One user
20,000 visitors
Unlimited contacts
Instapage, on the other hand, has two plans to choose from. The Build Plan costs $199/month if paid annually and $299/month if paid monthly. The pricing for the second plan, called the Convert Plan, is custom and depends on the features you choose to include.
Which Plan is Right for You?
When deciding between ClickFunnels and Instapage, consider your budget and the features essential to your marketing strategy. If you need a comprehensive sales funnel builder with marketing automation capabilities, the ClickFunnels Basic or Platinum Plan might be more suitable for your needs.
However, if you're looking for a dedicated landing page platform focusing on conversions and personalization, Instapage's Build Plan or custom Converting Plan might be a better fit.
Remember to take advantage of the free trial periods for both platforms to explore their features and determine which one aligns best with your goals and requirements.
Conclusion: Which is the Better Option?
ClickFunnels and Instapage are both powerful tools for creating landing pages and building marketing funnels. However, they are designed to cater to different specific needs. Determining the better option depends on your requirements and objectives.
For a complete sales funnel building solution, ClickFunnels might be the better choice for you. It offers various features like upsell and payment capabilities, which allow you to create a streamlined and high-converting end-to-end customer experience.
On the other hand, Instapage is an excellent choice if you require a dedicated landing page builder with robust A/B testing capabilities and advanced analytics. Instapage also offers more 3rd party integrations, which might be a deciding factor if you rely on multiple marketing tools and platforms.
However, Instapage is limited in the types of funnels it can build, such as webinar funnels. If you're a freelancer or a funnel builder or funnel designer looking to cater to all types of clientele and build different types of funnels, Instapage may not be the best choice.
To make an informed decision, consider the following:
ClickFunnels: Better for end-to-end sales funnel building and upsell/payment features.
Instapage: Better for landing page creation, optimization, and extensive 3rd party integrations.
Ultimately, the better option for you will depend on your specific goals, marketing strategy, and integration preferences. Weigh the pros and cons of each platform and choose the one that best aligns with your specific needs.
ClickFunnels vs Instapage: My Choice
I started out as a freelancer, learning how to build funnels on free platforms such as Systeme.io and Groovefunnels.
I eventually joined the ClickFunnels community and was blown away by how amazing the whole platform, software, and support was. I joined ClickFunnels with a friend to share the monthly costs, but as my clientele grew, I eventually opened a Platinum account of my own.
The people who use ClickFunnels are business owners and entrepreneurs who already know the importance and functions of funnels. This saves freelancers like myself a lot of time, because imagine if you had a client who did not have any funnel building platform. Imagine if he only had a WordPress site (which costs near to nothing to maintain) and expects you to use it to build a funnel.
Imagine if you had to educate him on funnels, and not only that – convince him to sign up to a paid platform.
Potential clients that you may find where the platform is free, such as Groovefunnels, do not value the skills and the amount of time a funnel builder puts in to build amazing funnels that convert for them. To begin with, they are already not keen on paying for a platform, hence they go for a free one.
As such, they will not want to pay you well, either.
In ClickFunnels, almost every member knows what a funnel is. More than half of the members are business owners, actively looking for funnel builders. They are willing to invest (or have already invested) in ClickFunnels and many have the Platinum plan. In short, they have a marketing budget they're ready to use to scale their businesses with funnels.
As a funnel builder, it is definitely a hundred times more liberating to be within such a community, where people acknowledge your skills and are ready to pay you.
Building funnels on ClickFunnels and working with such savvy clients make me consistently $15k monthly. I now get invited to talk to teams on funnel conversions, funnel designs and funnel building. I coach aspiring freelancers and get paid to coach my client's clients.
So yes, if you were to ask me which option is better – go for ClickFunnels. The community itself is already a huge win for you.
Clickfunnels Classic or Clickfunnels 2.0?
Long story short, stay with the Classic while ClickFunnels continues to iron out the 2.0 (which is extremely buggy). I've built for several clients on the 2.0 platform, and I am not a huge fan of it yet. If you can afford to expand time and energy to troubleshoot weird bugs, then go for it.
What about LeadPages and Unbounce?
You can find an article I've written on Unbounce here. I may write on LeadPages soon!